Andover Newton Strategic Plan 2018-2022 - At a Glance
VISION FOR 2022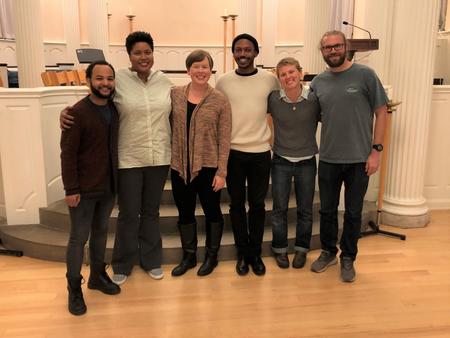 In 2022 Andover Newton Seminary will be recognized as the preeminent seminary for the education of church leaders in the (small "c") congregational traditions.  The reach of Andover Newton will be national and even international.  Students and trustees will come from across the United States and beyond.  Graduates will have dynamic ministries in a wide variety of settings throughout the country (and elsewhere).  Andover Newton Seminary will send out not just outstanding graduates but also new knowledge about the nature and needs of ministerial leadership in locally governed faith communities. Virtually every prospective student from our constituent denominations who is able to relocate or who lives within driving distance of the campus will have Andover Newton as his or her first choice of seminary.
When searching for a new pastor, congregations associated with our constituent denominations will look for candidates with an Andover Newton credential, knowing they have received an exceptional preparation for ministry.  Graduates of Andover Newton will have the reputation of being prepared to serve a congregation effectively on day-one after graduation. Similarly, congregations, faith leaders, denominational leaders, and thought leaders in religion will look to the new knowledge that Andover Newton creates as the most relevant and leading-edge thinking about ministry in congregations. 
In 2022 Andover Newton Seminary will fully draw upon the resources of Yale Divinity School and the wider University for the benefit of our students.  At the same time, Andover Newton will be fully established as a distinct entity with a unique mission within the wider YDS community, to the extent that it will seem as if Andover Newton always has been a "partner on the quad." Andover Newton will demonstrate not just good institutional citizenship but also will be a beacon of warmth, hospitality, student-centeredness, and love for community that has a catalytic effect upon the whole of YDS. 
Although our graduates will be the very embodiment of our mission, Andover Newton also will be a center of knowledge creation in the area of leadership in congregations.  A full range of media will be used to share what we have learned and are learning.  The family of traditions we serve—this unique way of being church—will find an invaluable resource in Andover Newton Seminary.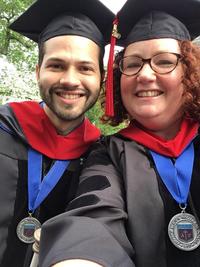 By 2022 Andover Newton will graduate 20-25 students per year.  Their education will have been essentially tuition-free.  If not immediately after graduation, then shortly thereafter, a majority of our students will assume positions of particular impact and significance in the life of our constituent denominations. Graduates and new knowledge that emanate from Andover Newton Seminary at YDS will enhance the reputation of the school in ways that bring us to the attention of prospective students, scholars, and donors.
VISION-SUPPORTING OVERARCHING GOALS
Prepare graduates for ministerial leadership in congregations, institutions, and emerging forms of faith communities by providing a distinctive, rigorous educational program within the context of the YDS Minister of Divinity degree program
Forge and cultivate lively, synergistic connections within Yale University and in the wider church, theological academy, and emerging religious movements
Create leading-edge knowledge on the church and its ministry and ensure that this knowledge is transmitted and preserved
Establish a reputation throughout the ecclesial and theological education world as the seminary best suited to candidates exploring a call to ministry who are seeking integration between outstanding ministerial and academic preparation
Establish Andover Newton Seminary as a financially and programmatically sustainable institution, distinctive from yet fully integrated into Yale Divinity School
ROADMAP TO GUIDE THE JOURNEY TOWARD OUR ENVISIONED FUTURE STATE
GRADUATES PREPARED FOR MINISTERIAL LEADERSHIP
Further our founding mission of educating excellent leaders for faith communities in ways that are ground-breaking 
Offer an educational program that prepares students for effective leadership in ("small c-") congregational churches immediately upon graduation 
Provide an education that includes a rich mix of integrative experiences and content-based classes 
Utilize a competency-based assessment of knowledge and skills required for ministry 
Break down barriers to inclusion
LIVELY, SYNERGISTIC CONNECTIONS
Establish and sustain generative connections within Yale University, other centers for theological education, the wider church, and emerging religious movements 
Nurture relationships with our historic partners, the American Baptist Churches (USA) and the United Church of Christ 
Create partnerships with pastors and other religious leaders who represent excellence in ministry in all its diversity—both so that our students can benefit from interaction with them and so that we might all learn from them what is happening "in the field"  
Be committed to students' ongoing relationship to Andover Newton, extend hospitality and offer opportunities for lifelong learning 
Communicate with our constituencies through a variety of media to order to strengthen bonds and encourage support 
SOURCE OF NEW, LEADING-EDGE KNOWLEDGE
Develop research capacity to increase knowledge and to expand the scope of our impact 
Create leading edge knowledge on the church and its ministry that is valued by those in the academy and in congregations 
REPUTATION AS GO-TO SEMINARY
Be recognized as the preeminent center of theological education in our traditions 
Graduate students who have mastered the competencies necessary for ministry and who are prepared to offer excellent leadership on "day one" 
Build and cultivate a vibrant community at YDS that teaches students how to do the same in their communities, strengthening Andover Newton's reputation as a school for both head and heart
Sustain life-giving human interactions and create community wherever we go
A FINANCIALLY AND PROGRAMMATICALLY SUSTAINABLE INSTITUTION
Draw fully upon the rich resources of the university to support and enhance the fulfillment of our mission 
Graduate students with minimal educational debt 
Maintain facilities both on and off the YDS Quad for our school to call home 
Broaden the base of potential donors who are excited about the mission of Andover Newton and how it is being fulfilled in our time 
The partnership between YDS and Andover Newton is off to a strong start, and the chemistry between these two historically linked settings is creating some promising compounds. The benefits will extend beyond the Andover Newton-YDS boundary into the whole of the university and ecclesial worlds. YDS and Andover Newton are already becoming something more than the sum of their parts. Our strategy will carry this positive momentum forward in a healthy direction, and we go forward with the help of the God who imagined all involved parties into being and imagines a future that we can but glimpse from where we stand.