Honoring President Copenhaver
Two Funds to Honor the Presidency of Martin B. Copenhaver
After five years of bold and thoughtful leadership, President Martin Copenhaver will retire from ministry and from his position at the helm of Andover Newton Seminary at Yale Divinity School. During his years of service to Andover Newton, Martin presided over an institution-saving transition, leading Andover Newton out of an unsustainable institutional model and into a strategic partnership, ensuring a bright future as Andover Newton continues to educate inspiring leaders for faith communities.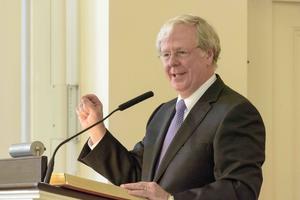 Throughout Martin's years at Andover Newton, and before that in his ministry dating back to his own graduation from Yale Divinity School, two commitments have distinguished him and been central foci of his work: (1) love for preaching, including teaching preaching and writing about it; and (2) dedication to creating settings where experienced clergy support the next generation's formation for ministry. In recognition of these commitments and in honor of Martin's work, Andover Newton is has established and invites financial contributions to two funds that will both celebrate his ministry and sustain his legacy:
The Martin B. Copenhaver Preaching Prize
Martin loves great preaching. His course, Preaching as Pastor, has been received warmly at YDS, just as it was in Andover Newton's Newton campus. His collections of sermons – among his many books – have provided inspiring reading to all who have read them. Beginning in May of 2020, an Andover Newton student will receive a prize (cash and a certificate) in recognition of outstanding achievements in and promise for preaching. Money raised for The Martin B. Copenhaver Preaching Prize will allow Andover Newton to confer this prestigious prize each year during Commencement weekend at Andover Newton's diploma ceremony. Fundraising goal: $35K.
The Andover Newton Seminary Fellows Fund
During his presidency, Martin established a new body of leaders for Andover Newton. "Fellows" are ministers in the vicinity of Andover Newton at YDS who come to campus regularly, form relationships with current students, and assist in teaching and worship. "Fellows-at-Large" come to campus once per year and are available to provide guidance to Andover Newton Seminary from afar. All Fellows offer support and encouragement to students, give feedback to Andover Newton's leaders in their efforts to provide a relevant curriculum, send strong candidates to apply to Andover Newton Seminary at YDS, and connect Andover Newton with the congregations they serve. Following his retirement from the presidency, Martin will continue to lead the Fellows Program, serving as Andover Newton's "Senior Fellow." Money raised for The Andover Newton Seminary Fellows Fund will be be used to build up this program and root it deeply into Andover Newton's culture and mission. Fundraising goal: $65K. 
Giving
A contribution can be made to these funds by…
Mail a check made out to "Andover Newton Seminary" to 409 Prospect St., New Haven, CT 06511. Be sure to name the fund that you are donating to on the check.
Go to the Giving page, enter the amount you would like to give and click on "Andover Newton Seminary." As you scroll down, you will be given the option of adding Comments and Additional Instructions with your gift. Simply name the fund in that notation and enter the appropriate payment information.
Don't see an option that works for you? Call or email Ned Allyn Parker with questions (ned.parker@yale.edu; 203-464-2287).
Martin is pictured here with the Andover Newton Seminary Fellows in 2018: