The Linda S. Campanella Scholarship
The servant of Christ gives without counting the cost. The servant leader gives as though their organization, and every person in it, might themselves be Christ. Linda Sachsse Campanella is a model of Christian servanthood and servant leadership.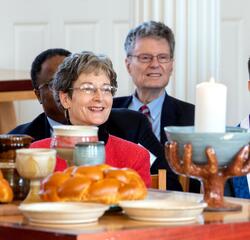 For 11 years, Linda has served the Andover Newton Seminary at Yale Divinity School
Board of Trustees
with wisdom and faithfulness. For the last four, a season of dramatic change for the historic theological school, she has served as chair. Linda is also a faithful member of the
Asylum Hill Congregational Church
. She and her husband Joe raised their three adult children in the church, and Linda held key leadership roles, including that of Moderator.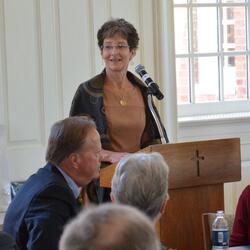 Linda is a management consultant serving the nonprofit and higher education sectors who supports organizations in strategic planning, governance, marketing, and fundraising. She is the owner and principal of SOS Consulting Group, LLC. Before launching her consulting practice, Linda was a senior vice president and chief administrative officer at Trinity College in Hartford, CT; this following many years in the private sector.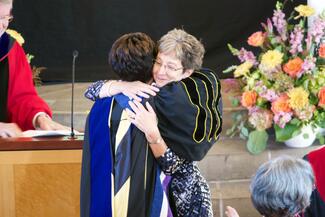 Among her many commitments to service, Linda has significant knowledge and excitement for fundraising. She was the founding chair of the Andover Newton board's Development and Outreach Committee, and she has for more than a decade proposed and supported measures that professionalized the school's approach to fundraising. On the occasion of her rotating out of the role of Chair of Andover Newton's board, staff and trustees are pleased to announce the creation of an endowed scholarship in Linda's name. 
Please help us meet our goal of raising a minimum of $50,000 for this endowed scholarship. Through this Linda S. Campanella Scholarship, an Andover Newton at YDS student will receive funding each year, along with a letter telling them that they have received a financial benefit named for Linda. They will already have reaped the benefits of Linda's leadership by virtue of the fact they are receiving a world-class education in ministerial leadership through Andover Newton at Yale. 
The Impact of Gifts on Tuition
Thanks to donor generosity and great progress toward fundraising goals, students will pay and borrow less than they did five years ago. Over that time, tuition has risen only eight percent, while the standard scholarship package has gone up by 33 percent. As a result, the annual cost of attending YDS is now $2,580 less than it was for the 2013-14 academic year.
Make a contribution to The Linda S. Campanella Scholarship today: 
Please note that the automatic response you will receive when your gift is made is your official tax receipt, which will come from Yale University. Once your gift is processed, you will receive a formal note of gratitude from Andover Newton. 
Checks can be made out to "Andover Newton Seminary," and mailed to Dean Sarah Drummond's attention at 409 Prospect St., New Haven, CT 06511. Be sure to write "The Linda S. Campanella Scholarship" on the memo line on the check.
Don't see an option that works for you? Call or email Ned Allyn Parker with questions (
ned.parker@yale.edu
; 203-464-2287).