The Upper Zoom: Worship and Bible Study for Week 4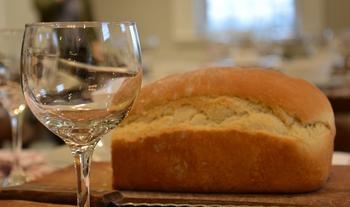 Current students, faculty, and staff are participating in a five-week, synchronous, socially-distanced Bible study and worship series called The Upper Zoom ©2020. Each week we will post the worship outline and Bible study that the Andover Newton Seminary community participated in the *previous* week. This way, our extended Andover Newton family, partner churches, and friends can lead their own weekly socially-distanced service.
The Upper Zoom (©2020): Week 4
Order of Worship by Sarah B. Drummond
Set the table: choose an activity for quiet centering, such as playing a song or lighting a candle.  
Checking in: group members share how they're doing, around 2 minutes each.
Prayer: Group leaders will have received prayer requests in an email by 5 p.m. Thursday. Also, the group leader might decide to write down prayers based on check-ins. Hold space for silence (3 minutes, give or take) after intercessory prayers. End with the Lord's Prayer.
Ritual observances
: 
Anointing. Whether with olive oil or Chapstick, invite the group to make a shape of a cross on each person's own forehead as a sign of protection against anything unhealthy that might seek to penetrate our defenses. 
Blessing: either the group leader can read, or can share the screen so all might recite, the traditional Emmaus (Pauline) blessing.
And now may the peace of God that passes all understanding keep your hearts and your minds in the knowledge and the love of God, and of God's son Jesus Christ. And may the blessing of God almighty, who created you, redeemed you, and will forever sustain you, be with you now and remain with you all forever. 
Passing the peace: Say goodbye with a word of peace, until next time. 
"And a Time to Refrain from Embracing" - Bible Studies for a Time and Season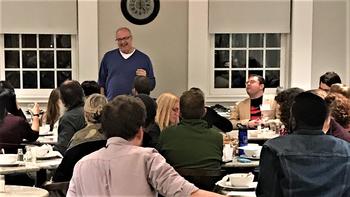 In the Wilderness, Temptations - Luke 4:1:12 (New English Bible)
41Then Jesus, full of the Holy Spirit, 
returned from the Jordan River 
and was led by the Spirit in the wilderness, 
2where for forty days he endured temptations from the devil. 
He ate nothing during those days, 
and when they were completed, he was famished. 
3The devil said to him, "If you are the Son of God, 
command this stone to become bread." 
4Jesus answered him, "It is written, 
'Man does not live by bread alone.'"
5Then the devil led him up to a high place 
and showed him in a flash all the kingdoms of the world. 
6And he said to him, "To you I will grant this whole realm
—and the glory that goes along with it, 
for it has been relinquished to me, 
and I can give it to anyone I wish.
 7So then, if you will worship me, 
all this will be yours." 
8Jesus answered him, "It is written, 
'You are to worship the Lord your God and serve only him.'"
9Then the devil brought him to Jerusalem, 
had him stand on the highest point of the temple, 
and said to him, "If you are the Son of God, 
throw yourself down from here, 
10for it is written, 'He will command his angels concerning you, to protect you,' 
11and 'with their hands they will lift you up, 
so that you will not strike your foot against a stone.'" 
12Jesus answered him, "It is said, 
'You are not to put the Lord your God to the test.'"
*******
Prompts and questions:
Note the motif of wilderness and the theme of temptation. 
How is this season like a wilderness for you? 
What are the temptations you face during this fasting from social and creature comforts?