The Upper Zoom: Worship and Bible Study for Week 5 (Final Entry)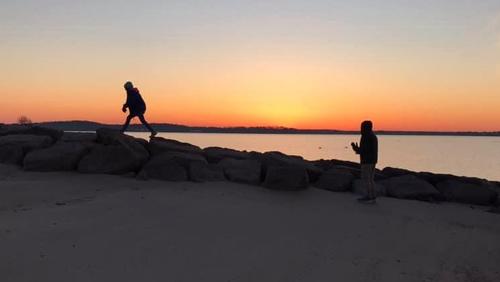 Current students, faculty, and staff have been participating in a five-week, synchronous, socially-distanced Bible study and worship series called The Upper Zoom ©2020. Each week we have posted the worship outline and Bible study that the Andover Newton Seminary community participated in the *previous* week. This way, our extended Andover Newton family, partner churches, and friends can lead their own weekly socially-distanced service. This service is the fifth and final service held before students begin final exams.
The Upper Zoom (©2020): Week 5
Order of Worship by Sarah B. Drummond
Set the table: choose an activity for quiet centering, such as playing a song or lighting a candle.  
Checking in: group members share how they're doing, around 2 minutes each.
Prayer: Group leaders will have received prayer requests in an email by 5 p.m. Thursday. Also, the group leader might decide to write down prayers based on check-ins. Hold space for silence (3 minutes, give or take) after intercessory prayers. End with the Lord's Prayer.
Ritual observances
: R
emembering our baptism. Invite each to bring a bowl or glass of water and to sprinkle each person's head with water, remembering out baptism.
Blessing: either the group leader can read, or can share the screen so all might recite, the traditional Emmaus (Pauline) blessing.
And now may the peace of God that passes all understanding keep your hearts and your minds in the knowledge and the love of God, and of God's son Jesus Christ. And may the blessing of God almighty, who created you, redeemed you, and will forever sustain you, be with you now and remain with you all forever.
Passing the peace: Say goodbye with a word of peace, until next time. 
"And a Time to Refrain from Embracing" - Bible Studies for a Time and Season
"Whatever You Do" - 
Colossians 3:12-17 (NRSV)
12As God's chosen ones, holy and beloved, 
clothe yourselves with compassion, kindness, humility, meekness, and patience. 
13Bear with one another and, 
if anyone has a complaint against another, 
forgive each other; 
just as the Lord has forgiven you, so you also must forgive. 
14Above all, clothe yourselves with love, 
which binds everything together in perfect harmony. 
15And let the peace of Christ rule in your hearts, 
to which indeed you were called in the one body. 
And be thankful. 
16Let the word of Christ dwell in you richly; 
teach and admonish one another in all wisdom; 
and with gratitude in your hearts sing psalms, hymns, and spiritual songs to God.
17And whatever you do, 
in word or deed, 
do everything in the name of the Lord Jesus, 
giving thanks to God the Father through him.
*******
Prompts and questions:
Note the treasury of virtues that, ideally, characterize spiritual community. 
In a period of social distancing, sheltering in place, and quarantines, how do we embody these fruits of the Spirit: gratitude, musicality, mutual teaching and learning, a heightened sense of tolerance and forbearance, the cultivation of unity below the surface of isolation? 
What are ways that the practice of health protocols can be done "in the name of the Lord Jesus"?