JaQuan Beachem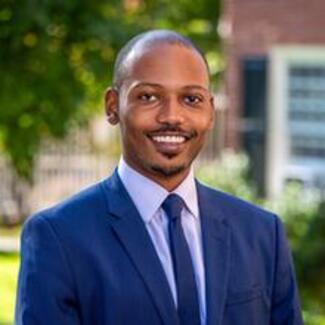 EDUCATION:
B.A., Bard College
M.Div., Yale Divinity School
Diploma Recipient, Andover Newton Seminary
BIO:
JaQuan Beachem is the Director of Community Development and Spiritual Formation at Andover Newton Seminary at Yale Divinity School. He graduated from Bard College with a major in Theater & Performance and Yale Divinity School with a Master of Divinity. He is an ordained minister in the United Church of Christ with a joint call to Spring Glen UCC and Andover Newton Seminary at Yale Divinity School. JaQuan practices ministry that is love-centered, joy-seeking, trauma-informed, and justice-oriented. 
In this role, JaQuan is responsible for attuning to the pulse of the Sterling Quadrangle and the University at large. This ministry meets at the intersections of pastoral care, community formation, practical theology, ethics, and the arts to curate space for belonging, healing, and (re)imagination. Via coordinating the weekly worship service Emmaus, co-teaching colloquia, and program creation for the Andover Newton at Yale Divinity School community, JaQuan continues exploring modes of "doing ministry in the world." 
While a student on the Quad, JaQuan served as a member of the Student Steering Committee (SSC), later as the Convener, at Andover Newton; liaison to the Associate Dean for Diversity, Equity, and Inclusion; 2020-21 Raymond Preaching Fellow; Executive Board member of the Yale Divinity Student Government and the Graduate & Professional Student Senate, respectively. During his Clinical Pastoral Education unit with the Jewish Theological Seminary, JaQuan was granted an opportunity to practice interfaith dialogue alongside his cohort. By way of art exhibitions in the Sarah Smith Gallery and collaboration as a member of the Liturgy & Worship Committee of the 2021 UCC National Synod, JaQuan has incorporated his artistic practices to color his ministry. 
In his leisure, JaQuan enjoys jamming out to music, honing his yoga practice, trying out a new recipe, and noticing things bloom. 
Rev. Dr. Jerry Streets exclaims, "The hope [JaQuan] symbolizes for me is the sensitivity to social justice and awareness of being a global citizen and how those traits are interconnected." 
Dean Sarah Birmingham Drummond claims, "JaQuan knows this community by-heart… His warmth, intelligence, and creativity will enrich Andover Newton as we begin to emerge from a season of physical isolation into yet another new leg on our seminary's journey."