Admissions & Aid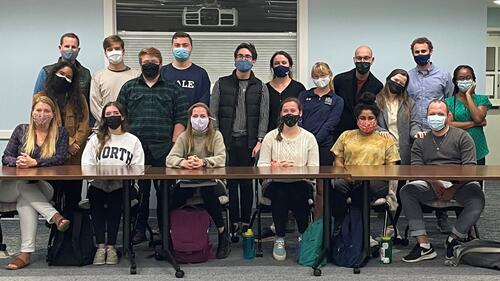 What's to Love about the Master of Divinity Program?
A reflection by Sarah B. Drummond, Founding Dean
Decades ago, when I was making plans for my own theological education, I remember talking with a mentor about the question, "Should I pursue the MDiv (Master of Divinity) or the MAR (Master of Arts in Religion)?" I thought that the biggest difference between the two degree programs was their durations, where, for full-time students, the MDiv is three years and the MAR two. My mentor set me straight. The MDiv, she said, integrates lived experience into divinity school's intellectual formation. Something about her enthusiasm for living the questions captured my imagination, and the MDiv it was. 
I now know that the experiences woven into the MDiv – supervised ministry internships, Clinical Pastoral Education, nonprofit agency placements – are not add-ons to the "real" curriculum in the theological school classroom. On the contrary, they are what breathes life into learning, changing our attitudes and behaviors while imparting skills and practical knowledge. Learning experiences outside the classroom even deepen our understanding of what we learn in the classroom. We remember our Bible better from having preached on it, our ethics from having to act ethically in ministry, our theology from asking "Where is God in all this?"   
The embedded seminary at Yale Divinity School I serve as dean, Andover Newton, focuses on preparing students for ministerial leadership. The way in which we educate students reflects a congregational ecclesiology and polity, which is a fancy way of saying that our program's underlying assumptions include (1) the local matters; (2) no human beings – including clergy – have all the answers, so communities have to rely on each other; and (3) the best leadership is shared leadership. 
Sometimes, students hear "congregational" and think Andover Newton educates students exclusively for service in churches. Hey, we love churches! We also know that in all contexts, including churches, God is doing something new. We therefore provide our students with great breadth in their preparation; they have to be ready to go where God sends them to use their gifts. We need our graduates to know how to engage in reflective practice on the quickly changing field that is ministry, no matter the setting, so they are ready to grow and change as the world changes, too. We seek to educate our students to take part in bringing to life that which God envisions for creation. 
The MAR is a wonderful program that, for many, is exactly right when it comes to answering their callings. What I love about the MDiv is the way it gets students thinking about the iterative nature of the study of faith: we learn, we live, we learn some more. That iterative approach prepares students to attend to what God is doing, wherever God is doing it, and partner with God in the future's unfolding. 
Want an insider's perspective on what it's like to be an Andover Newton Seminary student? Check out our Instagram feed
(
@andover_newton
),
where you'll find a series of student takeovers. These students reflect on everything from their faith journies, to life in New Haven, to classes and community…