Giving
Update to our donors: We wish to express our deep gratitude to those of you who have continued to give during this difficult time. Your faithful generosity ensures ongoing preparation for ministry. During this time of pandemic, our access to campus is restricted, which means it is more difficult to to process mail. If you would like to contribute to the annual fund or an endowed scholarship, please consider making your gift online. Thank you.
≈≈≈
German mystic, Meister Eckhart, is credited with saying, "If the only prayer you ever say in your entire life is, 'thank you,' it will be enough." Another mystic, Gregory Mobley, is credited with saying, "Don't just say prayers. BE prayers. Be living prayers." The faculty, staff, and students of Andover Newton are living prayers of gratitude for you. Thank you. Thank you for your devotion to the Christian gospel and to Andover Newton.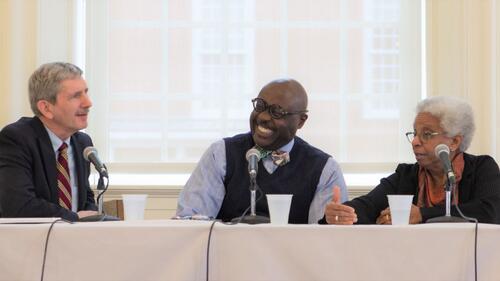 For more than 200 years Andover Newton has maintained its commitment to future faith leaders of the world as the "School of the Church." This commitment can only be fulfilled through the generosity of our alumni/ae, churches, and friends who partner with us in this sacred calling. Your support is essential if Andover Newton Seminary is to remain at the cutting edge of theological education.
Andover Newton has formed generations of professional and lay leaders of churches, educational institutions, mission programs, and outreach agencies. Won't you join us in helping them?
The Andover Newton Development Office is committed to:
Adopting a Faithful Devotion to Gratitude.
Nurturing Transformational Relationships, not Transactional Relationships.
Embracing Our Vulnerability as a Symbol of Sacred Humility.
Making Accessibility a Form of Outreach.
Communicating Clearly About Need.
Link to the Donor Bill of Rights
Are you ready to make your gift? Visit the Ways to Give page, where you can choose a method of giving that is right for you.
The Impact of Endowing Scholarships…
I gave to Andover Newton Seminary because I'm excited about the future of our beloved school.  We all know that we're living during a time of seismic changes in the Church.  Andover Newton is responding to these changes head-on, ensuring that our donations help provide a quality education for future clergy.  Giving back to the Seminary that formed me so well for ministry is an honor." Lauren Lorincz (MDiv '10), pastor of Colchester Federated Church, Colchester, CT