Annual Reports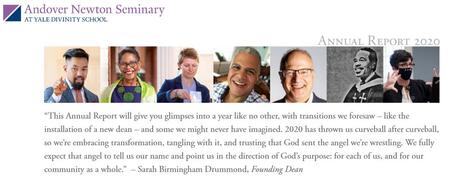 In 2020, Andover Newton Seminary at Yale Divinity School published its first online Annual Report. The reasons for moving this compilation of milestones, reflections, and gratitude from each fiscal year online were multiple:
Andover Newton Seminary was and is living into its commitment to reduce its carbon footprint. The institution was producing approximately 2,700 Annual Reports each year - a lot of paper and a lot of chemicals in the color print.
Andover Newton wanted to make these good news stories more accessible and more transmissible.  Moving the report online means that the reports can be accommodated by screen-readers. Additionally, reports can be shared with friends and constituents with the push of a button.
2020 was the first year of the pandemic, and much of the community's programming and lectures moved online. With recordings and videos of many of these events, a digital report allows the events to be viewed and experienced with simple hyperlinks.