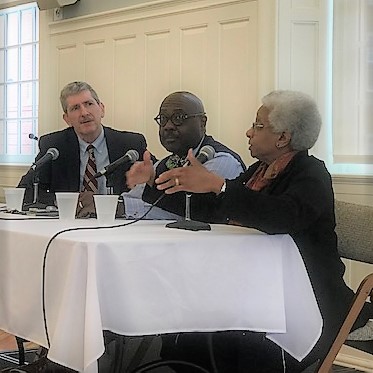 On February 20 Andover Newton Seminary at Yale Divinity School sponsored a conversation with the Taylor lecturer, Professor M. Shawn Copeland. Professor Copeland teaches at Boston College and is one of the most prominent African American theologians in the United States. Her three lectures to the Yale Divinity School community during this week focused on weighing up the global weight of suffering, responding to suffering with solidarity and compassion, and articulating a hope for new life and community.
Professor Willie Jennings (an affiliate Andover Newton faculty) and Professor Mark Heim met with Copeland over lunch with a large number of students. The conversation allowed students to hear more about Professor Copeland's personal story and to ask their own questions. Heim began by saying that Andover Newton was proud to be part of her story, as she is a graduate of the Boston College—Andover Newton joint doctoral program in theology.
In the conversation, Copeland explained growing up in a segregated Roman Catholic parish and school in the midwest, and the ways that her grandparents and parents prepared her to flourish in life, even as they taught her about the barriers and oppression she would encounter. She encouraged the students to become aware of the social suffering around them, not only large scale social and political issues but the invisible and ingrained aspects of ordinary life that limit or damage oppressed groups.