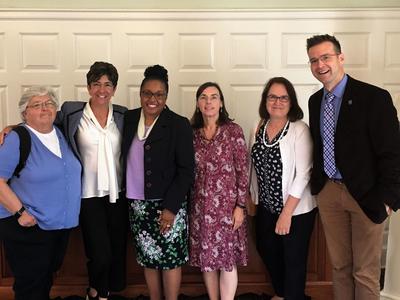 Sarah Drummond, Gregory Mobley, Ned Allyn Parker, recent graduate from Andover Newton Seminary Emily Bruce, and others will be representing Andover Newton at the national denominational events in late June. At each event representatives from the school will host a meal and be available for conversation.
If you would like to know more about the Andover Newton breakfast at Mission Summit, the Andover Newton dinner at General Synod, or the Andover Newton dinner at General Assembly, please visit the event page on our website.
If you have not registered for one of these meals, information about RSVP'ing is listed on each of the event pages. If you do not plan to attend a meal, but would like to know more, visit the Andover Newton booths at the Mission Summit and General Synod, or find Emily Bruce during General Assembly.
Additionaly, Sarah Drummond will be signing copies of her new book Dynamic Discernment: Reason, Emotion, and Power in Change Leadership at the Pilgrim Press table on June 24th at 1:30pm during the UCC General Synod.
We look forward to seeing you on the road!