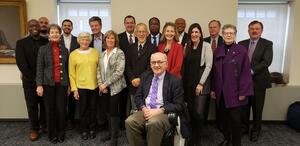 Andover Newton Seminary's Board of Trustees voted on June 7, 2021 to adopt a refreshed version of the strategic plan it approved in May of 2018. In 2018, Andover Newton was still newly embedded at Yale Divinity School and had just hosted its last in-person graduation on its Newton, MA campus. Except for its mission to educate inspiring leaders for faith communities, much about its future was unformed or unknown. 
Today, Andover Newton has graduated three classes of students from its New Haven, CT campus; secured a distinct location on the YDS Quadrangle; and formed new patterns. It has also weathered the test of Covid-19's shut-downs and reflected deeply on the theological education implications of racial strife and political unrest rocking ministry contexts around the globe. Even though its five-year plan was relatively new, Andover Newton's leaders needed an update to serve as map and guide.
The team that carried out the refreshment process included the following: 
•
Hannah Kane (trustee and board chair-elect for July 1, 2021) and Sarah Drummond (administration) (co-chairs)
•
Ned Parker and Tracy Edwards (administration)
•
Dawn Jefferson (student; graduate and Jonathan Edwards Prize winner as of May 22, 2021)
•
Tamara Moreland (at-large; newly elected trustee as of June 7, 2021)
•
Don Ng, Tim Moore, and Judy Swahnberg (trustees)
The team studied the current strategic plan, connected with a wide array of stakeholders, and revisited each section of the plan with an eye toward updating it. Although the plan was deemed essentially sound, proportions and emphases needed adjustment in light of what has changed in the world, and the seminary's role in responding to – and leading amidst – those changes.
Most notable among the changes were an increased emphasis on Gospel-centered social justice and antiracism, more language and attention to leadership development, and a stronger emphasis on the school's track record of and value for innovation. A summary of the newly refreshed strategic plan will be available in our 2021 online Annual Report, due out in mid-October. 
In the meantime, Andover Newton celebrates that good things that happen when thoughtful and devoted leaders gather, listen for the Spirit's voice, and translate that voice into a set of plans for making real that for which both the mission and the times call.