For nearly a decade, Andover Newton's library leaders acquired electronic versions of assigned books whenever they were available. As they carried out the process of de-accessing the collection beginning in 2016, the electronic books needed to remain available to students through the closing of the Newton campus.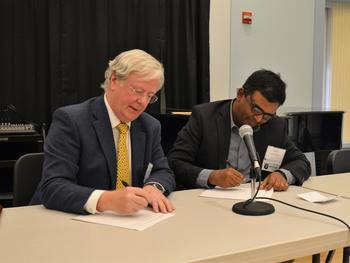 Now that the Andover Newton library has been relocated to Yale Divinity School, and resources have landed at YDS and other destinations, Andover Newton chose to donate the electronic book collection to our sister seminary in Sri Lanka, Christian Theological Seminary (CTS). The Rev. Jude Sutharshan, a 2016 graduate of Andover Newton's MA in Theological Research program, serves as Principal of CTS. Rev. Suthershan was in New Haven for Andover Newton Alumni/ae Convocation events.
These books will go a long way toward helping CTS to restore a collection devastated by civil war. Jude interrupted his North American vacation for a signing ceremony where President Copenhaver officially signed over the books Andover Newton owns on the EBSCO database hosting system to CTS.