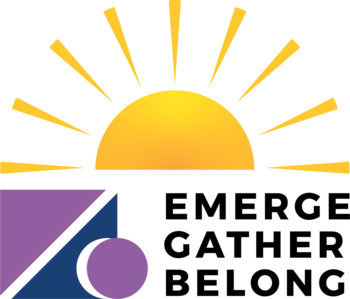 This fall, Andover Newton Seminary at Yale Divinity School welcomes students back to campus, just as some churches are welcoming parishioners back to in-person worship. We are all, in a sense, emerging, though the reality of pandemic remains. Nevertheless, we do emerge. This emergence is celebratory, but it is also tentative. Do you feel it? The hope? The trepidation?
We have all experienced loss over the past 18 months dealt to us by the COVID-19 pandemic. At the same time, a Great Reckoning is unfolding in which is addressed head-on the 400-year impact of anti-Black racism, and systemic racism in all of its internalized and institutionalized forms. Some have found new awareness of the nature privilege plays in our culture and our churches, and others have experienced trauma and re-trauma.
Together we emerge with questions and with hope.
And, as we emerge, we gather. Though protocols remind us to assemble in safe ways – getting vaccinated, wearing masks, and avoiding big crowds – we have learned much about the power of gathering. A new and deeper appreciation for virtual gathering has developed, which has allowed disabled and infirmed siblings to participate fully in the life of some communities.
Within the liminality of this initial emergence and gathering, new forms of belonging are experienced. Risk and vulnerability on physical, emotional, and spiritual levels are present as we move from one liminal time to the next, but the Gospels and our own shared stories teach us that true and authentic belonging can only come out of that risk and vulnerability.
All of this – the good and the bad, the holy and the mundane, the risk and the reward – are echoes of those most profound Gospel narratives in the days immediately following Jesus' death.
He emerged from the tomb.
The disciples gathered to share their own stories of the resurrection.
From these experiences, the ekklesia – the community of gatherers – created safe space for the Spirit to inspire a sense of belonging that transcends geography, denomination, ethnicity, gender, affinity, or ability.
One morning after a politically motivated public execution, a hewn stone was rolled away. A tomb was found empty. On that morning, the Son and the sun both shone in radiant glory.
Emerge, gather, and belong; this progression is in our DNA as Christians. It's a progression that marked the earliest days of our faith tradition. It's a progression that grounds us in community today. It's a progression that gives us hope for tomorrow.