Nancy Nienhuis Offers Remarks for Students and Alumni/ae
Celebration of the Beloved Community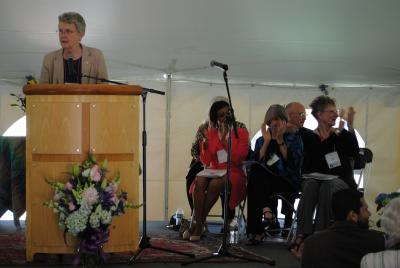 How wonderful to be with you all on this beautiful hill so many of you have called home. How do I begin to capture what it means to be a student or alumni of Andover Newton? I thought that it might be best to walk down memory lane with you, on a virtual campus tour. And since we're a theological school, I thought I might pair hymns with places in this walk down memory lane.
First on our journey is the hill itself, which is as much a presence on the campus as Davis Hall. Early students milked cattle in the morning and did Greek in the afternoons. Many of you spent glorious winter days sledding down the hill, some of you with your children. That 1st semester you came up the hill with no idea what seminary was going to be like. Or rather you had an idea which you realized after about the 2nd week was completely incorrect.  "Kum Ba Ya" cames to mind for me. You were sure seminary was going to be everything you thought it would be, and you and your fellow seminarians would live together in perfect harmony.  
As we come further up the hill the 1st building we encounter is Colby Hall. For your predecessors Colby Hall was the school, classrooms, administration, and all,  but for most of you Colby Hall was Colby Chapel, a place where the community worshipped. Many of you were married there. You brought your prayers for course work and your future to that chapel. In such a classic setting the old hymn Amazing Grace comes to mind.
Amazing Grace, how sweet the sound, 
Will they pass a wretch like me?
My call was lost but now is found
A minister I'll be
You probably all know by now that Colby Chapel is the place where the phrase "you're killing them with that sermon" took an awkward turn when the person preaching actually died in the pulpit. It's true—we removed the plaque on the floor when we sold the building. Some of you may have been here for that.
Of course across from Colby is Herrick House, where many of you raised families or made connections with students from other faith traditions. There were many years when you and your neighbors were Jewish, Muslim, UU and Christians. I'm not sure of a hymn for Herrick, a children's song would probably best because so many grew up there. Maybe "Jesus loves the little children, All the children of the world."
Herrick also brings to mind the mid-20th century when trustees and leadership thought it would be good to name the place after past president (1908-1925) George Edwin Horr. But upon consideration, having Horr House on a theological campus probably wasn't the best idea, so Herrick it was. Although one of our alumni was credited with coining the term "free love…" 
Of course the residence halls played a critical role in your lives here, and as you come up to the quad on our virtual walk together you see them. All the late night conversations with each other that were so important to your faith development and sense of call. And I certainly heard stories of less theological activities. Like the beer making that happened in the Berkeley Room, when it was still a student lounge—and which actually caused it to no longer be a student lounge! Or earlier yet when some of you, who will remain unnamed, used to cool your beverages of choice on the window sills of Sturtevant Hall in the snow!
Actually most of what you did in the residence halls was study, preparing for exams, writing sermons and papers and theses. And of course the old hymn, "Sweet Hour of Prayer," comes to mind, because you were spending hours and hours in prayer in hopes of passing!  
Of course no walk down memory lane would be complete without thinking about the classroom buildings, Davis Hall, Worcester Hall, depending on when you were here. Here you sat for those exams you studied for, and turned in those papers. I think an appropriate hymn is "Take my hand, precious Lord."  You know how the lyrics go, "Precious Lord, take my hand, lead me on, help me stand, I am tired, I am weak, I am worn."  But when it came to finals you were singing, "thru the storm, thru the night, help me get, the answers right, Take my hand, precious Lord, lead me home." 
There is so much to this place. But when all is said and done, these are just buildings. Without each of you in them this would not have been a place of poignant and powerful memories. As Alumni, you have accomplished great things. You were abolitionists. You founded hospitals, translated languages into English for the first time, founded universities. You represent the corners of the earth, all faiths, and LGBTQ folk and more. Alumni, you have preached sermons that saved lives, soothed suffering, and challenged oppression. You've sat by bedsides, taught classes, founded grass-roots organizations, written hymns, created art. You have made our world a better and more just place.
And for current students, this is exactly what we expect from you, and we know you're up to it.  
When I consider all of you, alumni and students, the lyrics to "Everything is Beautiful" come to mind. You really do believe that our faiths and our churches can be beautiful, in their own way, and under God's, the holy's, heaven, we will all find our way. We may walk away from the hill now, but the hill is always with you, all the memories, all the conversations, all the tears and laughter because you will always have each other.
Would all current students please stand? Would alumni please stand. We honor you today.