Words of Recognition and Gratitude for Andover Newton Volunteers Offered by Judy Swahnberg
Celebration of the Beloved Community
May 11, 2018   
The following is a transcript of the reflection offered by Judy Swahnberg during the event.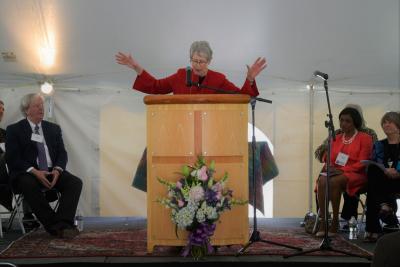 This beloved community has been greatly enriched by special programs led by talented and resourceful individuals, 
enthusiastic participation by so many of us in these programs,
and drawing volunteers and friends to the school on the hill,
who have given generously of their time and talents. 
Andover Newton's formal curriculum has, in my mind, 
been complemented by the spirit hovering, 
inspiring students and faculty and friends to create these 
Special Programs… spurring dialogue, worship, travel, 
experience in the local parish and, in general, 
poking the beloved community, creating surprises and synergies.
Let me highlight just a few extraordinary programs:
• In 1882 Andover had its first student immersions in an urban environment and in criminal reform, a precursor to the
 Border Crossing Program.
• 1931 we introduced the first clinical pastoral education program in a seminary, or CPE. 
I don't know about you, but my own experience with CPE at the Brigham includes conversations with patients that are permanently seared into my soul. 
• In the '60's The Blue Hill Community Center in Roxbury responded to the ferment for civil rights by creating opportunities for seminarians to be involved. 
• From the 70's through the 90's the Laity Project and the Ministry of the Laity focused on creative ways to strengthen the church's lay leadership.
• In the early '90's the South African Leadership Program allowed some exhausted and overworked Black South African's to have a sabbatical year here focusing on leadership skills they needed for human rights work back in South Africa.
• Kelsey Owen Black Ministries and Scholarship Program and the Orlando Costas Hispanic Ministries and Scholarship Program brought about 
–an impetus for a significant increase in the enrollment of 
African American and Latino students, 
–the hiring of a more diverse faculty 
– the development of programs and outreach to these communities.  The Orlando Costa lectureship has consistently been the best attended extra curricular lectures at the school.
• In the late 1990's interest in Theology and the Arts prompted transformation of the neglected Burgess Gym into a thriving Center,
 the heart of the Summer Theology and Arts Institute, bringing artists to teach intensives and provide students with new ways to express their faith through the Arts.
* In 2004 the third floor of Sturtevant evolved into the Center for Faith, Health and Spirituality, creating space for meditation, spiritual direction, ecology and ministry, Reiki and yoga, regular times for walking the labyrinth, and sponsoring Summer Institutes.
• In early 2000, trips to Nicaragua, El Salvador and the Border of Mexico and Arizona were so transformative to students' education that in 2008 the Border Crossing Program became a requirement for the M.Div degree. These meaning making experiences–
Working with the homeless, in the criminal justice system and behind bars, in travel and study in the hollows of Appalachia, in the villages, cities and seminaries of India, China, Myanmar, Israel and Palestine and Ghana—challenged our perceptions. 
• Hebrew College's move adjacent to AN brought new opportunities.
In 2004 the Interreligious Center for Public Leadership was founded, followed in 2008 by the founding of 
The Center for Interreligious Community and Leadership Education, or CIRCLE, putting AN on the map as the leader in seminary education for creative leadership in Jewish, Christian and Muslim interreligious studies.
Circle produced significant accomplishments:
– 50 joint interfaith focused classes,
– the first Professor of Interfaith Studies
– more than 70 Jewish, Christian and Moslem leaders received certificates 
– the hiring of the first shared Islamic Scholar in Residence, 
• Through the leadership of the Student Association, 
student sponsored programs have invited generations to gather.
There are so many–, the UCC, Baptist and UU Fellowships, GLANTS, a group for gay, lesbian and Transgendered students at AN, the Ecology and Recycling Task Force, The Black Alliance Fellowship, African American Sisters and on and on and on. 
So, friends, if you have founded, run or attended a special program, 
had your mind and heart expanded by meditation, 
had a quiet conversation with a patient in CPE, 
journeyed with border crossings, 
walked a labyrinth, 
attended the Costas lectures or recycled with the green team, 
been a lay leader, participated in the Baptist, UU or UCC Black students, International fellowship, attended Town Meetings, Community Forums, Interreligious Dialogue Groups  or Field Trips to ANS-YDS; 
or any of the other programs I mentioned this afternoon, 
please stand so we can show appreciation for the vitality in the life of our beloved community.   
Andover Newton has also been enriched by 
volunteers who have brought the values of radical hospitality, 
faithfulnesss and joy to their work…
being a right hand in the president's office with years of expertise in the parish or volunteering,  
picking up candidates for faculty positions at the airport,  
planting a garden on campus, making curtains for the Peck Room, 
identifying trees by names with plaques,
 or in three different cases volunteering for years at a time
 in the Field Education program and being an indispensible part of its renowned program – 
volunteers have made an unbelievable difference in the life of the school 
and to its students.   
We all know even those on the payroll have often gone over and above the required, volunteering hours of their time out of their own generosity of spirit and good will to the school.  
And trustees give hundreds of hours as volunteers essentially, 
as do those who have served on President's Advisory Board and Council.  Volunteers have been so important to the life of the school that an annual Jim Burns Award has been given to recognize outstanding service.
Would all those who have served in a volunteer capacity in any way
 please stand so we may say applaud with grateful thanksgiving all your contributions. 
—-
Throughout AN's history there have been wonderful friends who have become a part of our life together, participating in programs, attending special events, contributing to our annual fund or through special gifts.
Your support and generosity have given life to this beloved community.  
Would all the friends of ANTS stand so that we might offer our thanks?  
As we have seen, this interplay of special programs, volunteers and friends have contributed to create a wealth of surprises and synergies. 
And for that gift of spirit, we give thanks.