The text from Nick Carter's introductory remarks and closing prayer from the Celebration of the Beloved Community on May 11th is provided below.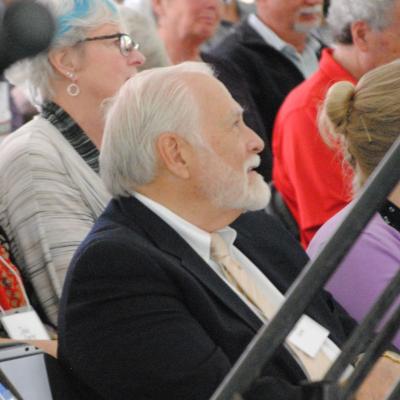 A Prayer for Andover Newton
On the occasion of its departure from the Newton campus Nick Carter, President Emeritus
Introduction:
In 1807 a stubborn and rebellious spirit left the comfortable confines of Cambridge and flew north to Andover to begin a Congregational experiment that changed the face of theological education. One hundred fruitful years later the spirit grew restless, returned to Cambridge for an ill-fated reunion. Then, catching a gentle Baptist breeze, zephyr'd across the Charles to settle for a while in a nest on a high and beautiful perch in Newton - a large aerie that welcomed the spirits of new and ancient traditions. Another prolific century has passed, but again the spirit has grown restless and this time looks to wing its way southward. Today we acknowledge all the nests, but honor the enduring spirit. I thank you for the opportunity to be a part of that honoring, praying with you and for you in this poignant time of concluding worship.
A Prayer:
0 God, our help in ages past, our hope for years to come; we turn to you in this hour filled with memories of what has been and dreams of what might be. Our solemnity, grief, and nostalgia comingle with our laughter, gratitude, and sense of promise. Into your strong and tender hands we pour out this chemistry of emotion, confident in your divine alchemy to mix and transform it into a joyful elixir - a sacrament to sustain us in our sojourning.
We are gathered here as your anointed people. We are many and varied: pastors, priests, and prophets; teachers, administrators, and caregivers, who have each responded to your call to bring good news to the oppressed, to bind up the broken hearted, to proclaim liberty to the captives and release to the prisoners. Our professions of faith and expressions of life are diverse and passionately held, which has been a  source  of  discovery  and  delight  (though  at  times,  we  confess,
exasperation!). As we look about and consider this multiplicity we can do other than celebrate it. It is our Beloved Community, a hallmark, and one of our finest Andover Newton blessings.
Twenty generations have come and gone in the storied history of this institution. In the intervening years we have had several homes, but one mission; many leaders, but one shared vision: that we might be of service to your gracious love. Inspired servant leaders have left us and traveled to the far reaches of the globe to preach, establish churches, succor the dispossessed, teach, translate, and build hospitals and schools for those who had none. They have spread across this continent too, making their faith real by serving in pulpits, fighting for abolition of slavery, demanding Native American dignity, and marching for the rights of African Americans, Latinos, Women and the LGBTQ community. We do not claim to always have been right or stellar witnesses; we confess to having stumbled and been humbled by our shortcomings. Yet, we are inspired by those times when individually and collectively we have discerned your will and found ourselves worthy to be on the side of righteousness.
We cannot behold these hallowed halls and well-walked paths without an overwhelming sense of gratitude for the professors and administrators whose brilliance, dedication, and personal witness shaped us, challenged us and guided us on our way. We are grateful too for those loved ones, friends, and family members who sustained us, tolerated us and loved us - even when we were theologically consumed and nearly unlovable. Great God, you were the architect of something of consequence here. In a wiser moment we realize it isn't a material thing - not bricks and mortar: they are incidental. You have fashioned our faith in this sacred laboratory. You have laid a foundation here that grounded our thinking and cemented us together. All of these things have the design of your hand: not so we would linger, but rather that we would confidently depart, committed to offer a prophetic witness to a world that needs it so desperately.
Gracious and loving spirit, we know a seminary is a place of preparation. Saying farewell is in many ways the most important thing anyone can do here, because it means those who have come are ready to pursue their calling. It means that those who teach and count and care have done their job well. It means that those who gave their resources of wisdom, time and treasure did not do so in vain. The ultimate measure of a seminary can never be in the quantity of its assets, but rather in the quality of it graduates. The former exist only for the latter.
So, it is we who have studied here and worked here ask that our memories be a blessing. The echoes in the classrooms, songs in the chapel, whispers in the stacks, and labors in the offices may fade, but what happened there will not. We ask that you bless the all staff and trustees who served so faithfully on this Hill through the past four score and ten years. We ask that you will bless the faculty whose scholarship and teaching molded so many disciples-in-the-making. We ask above all that you will bless our current students and alums, and their places of service; it is for them this school exists. Gracious Lord, hear our prayer.
Yet, our hearts and minds are not content with mere memories. The winged spirit of Andover Newton is far more than that. As you moved with the people of Israel in their mobile dwelling place, the tabernacle, and as Christ offered a more perfect tent, so too is the inexhaustible and joyful spirit of this Beloved Community agile and ready to travel. Thus, we ask that our hopes for the future will also be a blessing. We ask that all whom we have entrusted with the sacred spirit that makes this school what it is may have your blessing as they usher it to a new nest. May new generations of faith-filled servants be prepared, eloquent new ministers formed and courageous new prophets inspired. We pray you find delight in them as they in you.
0 God you have been our dwelling place in all generations. Satisfy us in the morning with your steadfast love, so that we may rejoice and be glad all our days. Now we fly away. AMEN.