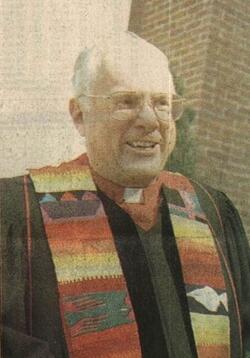 The Rev. David J. Dean (ANTS BD '57), 92, of Cromwell, CT, and formerly Rutland, VT, died Sunday April 2, 2023, at Pilgrim Manor in Covenant Living of Cromwell.
David was born on January 12, 1931, in Worcester Massachusetts, the son of Carlton and Kathleen (Smith) Dean. Raised in Shrewsbury, Massachusetts, David graduated from Shrewsbury High School in 1948, Kimball Union Academy in 1949, Trinity College in Hartford CT in 1953, and received his BD from Andover Newton Theological School in 1957.
David served four wonderful churches: Pilgrim Congregational Church in Worcester Massachusetts, 1954-57; The Sturbridge Federated Church, Sturbridge Massachusetts 1957 -1961; Foster Memorial Church, Springfield Massachusetts1962 –1972; and Grace Congregational United Church of Christ in Rutland, Vermont 1972 -1996.
A genuine concern for people characterized David's ministry. He was also a passionate and powerful preacher. As reported in the Rutland Herald, "Rev. Dean once calculated that he had preached over 900 sermons during his 24-year tenure at Grace, Rutland's largest Protestant church. Following his final sermon with 700 people in attendance, the congregation took to its feet and gave their 6'6" minister a standing ovation for several minutes. One man shouted, "Thank you." Many wiped their eyes with tissues, including Rev. Dean himself." He was named Minister Emeritus of Grace Congregational Church UCC following his retirement.
Throughout his forty-four years of ministry, David was not only well-loved, he was also courageous. He was an outspoken leader in the civil rights movement of the 60's and a champion for gay and lesbian inclusion in the church in the 70's. In both Springfield (MA) and Rutland (VT) he served as Police Chaplain, working extensively with individuals who were homeless or incarcerated. His vision for the housing needs of Rutland's elderly resulted in the building of the current Heritage Hill neighborhood; The Meadows; and The Gables of Rutland. For twenty-two years, he served as Chair of the Board of Directors of the Open Door Mission in Rutland. He was a founding member of Dismas House in Rutland and received the Hickey OP Award for his "commitment to reconciliation, compassion, and dedication to the disenfranchised."
He held the positions of President of the Vermont Conference of the United Church of Christ and Vice-Chair of the United Church Board for World Ministries. In 1996 he served as Moderator of The General Synod, the national gathering of the United Church of Christ. David served as Imperial Chaplain for the Shrine of North America and Grand Chaplain of The Grand Lodge of Vermont.
David was a beloved husband, father, and grandfather. He was predeceased by his wife Joan (Gannon), a true partner in his dynamic ministry, to whom he was happily married for 58 years. He leaves his daughter, Mary Dean (ANTS MDiv '88) (Chris Palazzolo) of Rocky Hill CT, and his son John (Janice Dean) of Claremont NH, four grandchildren John Dean, Patrick Dean, Samuel Dean-Lee, and Skyler Dean-Lee, and four great grandchildren Rayden, Declan, Jordan, and Emily. He also leaves his dear companion, Esther Olson, in whose friendship he found great comfort.
Memorial Services will be held on Saturday May 6, 2023 at 1pm in the Event Center of Covenant Living of Cromwell CT and Saturday June 10, 2023 at 2pm at Grace Congregational United Church of Christ, Rutland, VT. Memorial contributions may be made to Grace Congregational United Church of Christ, Rutland Vermont or to the Benevolence Fund of Covenant Living of Cromwell.