When Thomas Freeman entered Andover Newton in 1939, Andover and Newton had only begun to share a campus and mission. Although "Andover Newton Theological School" did not exist as a merged entity until two decades after he graduated, Freeman's life and ministry were an exemplar of unity and the power of partnership.
Freeman, who passed away on June 6th, weeks before his 101st birthday, was one of the few people still living who knew Andover Theological Seminary in its Harvard-embedded entity, Newton Theological Institute, Andover Newton Theological School, and Andover Newton Seminary at Yale Divinity School.
During all three years of his studies at Andover Newton, Freeman received the Chip Scholarship in recognition of the "Highest Academic Honors" in his class. Though Freeman studied theology and ministry while a student at Andover Newton, his preaching started long before he arrived on campus, having offered his first sermon at the age of nine. 
As difficult as it is to imagine what it might have been like to be an African-American student at Andover Newton in such a small minority, and amidst such obstacles and stacked odds, Freeman went to his grave considering Andover Newton to be among the formative communities of his life and ministry.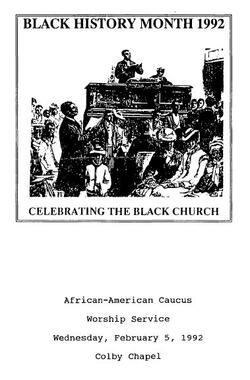 A half-century after his graduation, Freeman returned to the school – by then the Reverend Doctor Thomas Freeman – and preached a sermon titled "The Black Church: God's Gift to Us" in 1992 during Black History Month (Bulletin cover from archives pictured right). The responsive Call to Worship included this exchange:
Minister: Welcome to the house of the Lord, why have you come?
Congregation: We are here to worship God; to see visions with the foresight of youth, to dream dreams with wisdom of age, to move mountains with the power of faith.
Minister: You are a daring people, what gives you this boldness?
To worship God. To see visions of youth. To dream dreams. To move mountains with the power of faith. If one were to sum up Freeman's life and impact on the world, one might use these very sentiments. Additionally, he was bold and entered into the task of ministry with a mixture of that boldness, humility, and extraordinary care.
In the years leading up to that service in February of 1992, and in the years since, Rev. Dr. Freeman became an internationally recognized pastor, professor, public speaker, author, and debate coach. His students have included Rev. Dr. Martin Luther King, Jr. and U.S. Rep. Barbara Jordan of Texas. When Denzel Washington was getting ready to direct "
The Great Debaters
" – a movie that would go on to be nominated for a Golden Globe for Best Motion Picture in 2007 – he asked Freeman to coach the cast on debate method and oratory.
Though Freeman retired from Texas Southern University in 2013, he remained available and dedicated to students – even at 100 years of age. 
Freeman's legacy stretches across universities, congregations, and continents. He worshipped God. He saw visions with the foresight of youth. He dreamed dreams with the wisdom of age. He moved mountains with the power of faith. And whether parenting, preaching, teaching, or coaching, his life as an inspiring leader was a life of bold and daring ministry.
Update
: During the procedings of Alumni/ae Convocation 2020, it was announced that t
his year's recipient of Andover Newton's Spirit of the Hill Award is the Rev. Dr. Thomas F. Freeman. Because of his impact on Andover Newton and on the world, Andover Newton's board of trustees created a scholarship in Rev. Dr. Freeman's name, as well as a $50,000 matching fund challenge. Gifts to this scholarship will be matched dollar for dollar.
The announcement about the award and the scholarship was made during the live state-of-the-school address offered by Dean Sarah, B. Drummond. In this prerecorded video, Rev. Dr. Freeman's daughter, Dr. Carlotta Freeman, accepts the award on her father's behalf. Board Chair Linda Campanella explains why the board of trustees started this scholarship with a matching gift challenge. And, second year MDiv student, Jyrekis Collins, offers a powerful word about the transformational nature of scholarships.