In the midst of pandemic, faith communities have tried new things, adapted, and learned about both the power and problems of using social media for worship. Andover Newton Seminary at Yale Divinity School has worked to share information in real time over the past two years, while offering opportunities and ideas for community engagement. One of these opportunities was "Seminary Sunday 2.0."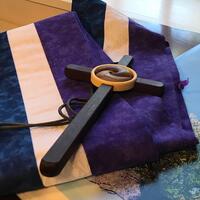 Seminary Sunday 2.0 was a pre-recorded service made available to churches in late January, 2021, which could be downloaded and broadcast by the church using the online platform of that congregation's choosing. Nearly 40 churches from around the nation participated in this offering, which is the highest participation rate we have on record for a Seminary Sunday event. The logistics and planning were made slightly easier because all of the churches participating were already meeting exclusively online due to the restrictions of social distancing. 
This year, things are a little different.
We know some churches continue to meet online, while others are back in-person, and still others are essentially hosting a hybrid worship – some members are online and other members are in-person. Given this spectrum of digital and in-person gathering, we have been discerning a way to host a Seminary Sunday that is available to faith communities both within and outside of New England. From this discernment, we have a new plan for 2022 – "Seminary Sunday 3.0: Seminary Snow-Sunday."
We will have a pre-recorded service led largely by students ready for use by churches by January 30th, 2022. Churches meeting online are then welcomed to broadcast the service on a Sunday of their choosing; churches meeting in person can save the service for a Sunday that is impacted by inclement weather. The choice will be yours.
We will share more details about Seminary Sunday 3.0 in early January, but your congregation is welcome to register your interest at any time by emailing
Ned Allyn Parker
. You can also send Ned any pertinent questions.
Look for more information in the new year on our social media channels (
Facebook
and
Twitter
: @AndoverNewton and Instagram: @Andover_Newton), or in the January edition of
News From the Hill
.
Take note
: Andover Newton has now formalized a
pulpit supply program
for churches that are within driving distance of New Haven. We currently have a list of 15 students and two staff ready to serve your community by offering pulpit supply. For more information about this program, please contact
Ned Allyn Parker
.