This afternoon (February 14, 2020), the Andover Newton community bids a fond farewell to our Senior Executive Administrator Kathleen Hamilton. 
Founding Dean Sarah Drummond writes: "Five years ago, Kathleen Hamilton left her home in Idaho to explore opportunities in higher education administration, saying yes to an opportunity to work on a project basis at Andover Newton Theological School in Newton, MA. Andover Newton's leaders quickly recognized in her a sharp mind, dedication to precision and quality, and a dry and delightful sense of humor. She moved from special projects to the role of assistant to the deans, and – when the school relocated some of its administration to New Haven and Yale Divinity School – she moved with the school and became senior executive assistant for Andover Newton Seminary at YDS."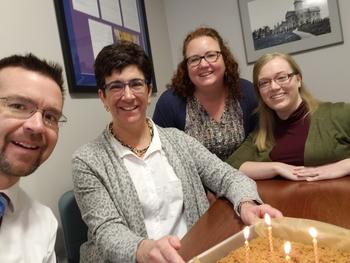 Development Director Ned Allyn Parker offers: "Kathleen has had an impact on every single aspect of what Andover Newton Seminary has become. She tracks every administrative duty with the highest degree of accuracy and attention; she edits copy for public statements and documents; she helped design our new office suite; she was integral in the move of records, files, data, and art. Kathleen has made herself invaluable to this institution, where all of us - faculty, staff, and students - hold her in the highest esteem."
Though we celebrate her today, Kathleen will continue her duties through Friday, February 21st.
Kathleen, we are all grateful for you and wish you the very best!