In 2016, when we were beginning to plan our move off the campus, Life Trustee Judy Swahnberg said, "You are going to need some help, and I have just the person in mind.  Her name is Janeen Hansen."  From everything Judy said about Janeen, it was clear that Janeen is a logistical wiz.  I even heard that when Janeen worked for MassPort she was responsible for moving an airport.  This turned out to be an urban myth (Janeen had worked for MassPort, but never claimed she had moved an airport).  I don't think I can be blamed for passing along this urban myth, however, because it seemed entirely plausible.  If I ever wanted to move an airport, I would call Janeen, and I am incredibly glad that I called her when we needed to move a school.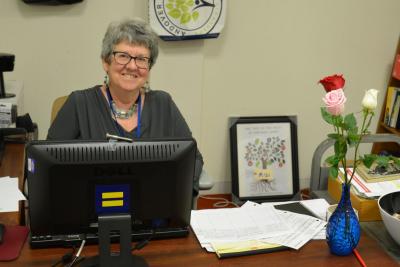 As Chief Operations manager, Janeen coordinated virtually every aspect of our move—from finding a home for the school's artwork to sending files, beautifully organized, to New Haven.  No detail escaped her notice.
I sometimes joked that Janeen could have planned the D-Day invasion (the story about her moving an airport no longer seemed on sufficient scale to describe what she accomplished).  But the most remarkable thing is that this logistical wiz with thtoe clipboard also has a wonderfully deft and caring way with people.  She helped organize lunches for students, staff and faculty.  She checked in with the staff.  She responded to the many and varied needs of those who came through the door of the Trask Building.  In countless ways—unheralded and behind the scenes—Janeen lovingly brooded over our community at this tender time.
For that, I will always be in Janeen's debt.  And I will keep her number handy in case I ever need to move an airport.
by: Martin Copenhaver