At Andover Newton, we kept finding ways to draw upon the gifts and graces of Susan Suchocki Brown.  Susan came to Andover Newton through the Field Education Program, and began teaching in the Professor-Practitioner Program in 2007.  During this same time, Susan served as the minister of First Church Unitarian Universalist in Leominster, Massachusetts, while also serving as Chaplain to the Leominster Fire Department.  That is, to say the least, a broad range of responsibilities—but Susan has such abundant gifts and prodigious energy that it seemed as if each ministry were the only one in which she was engaged.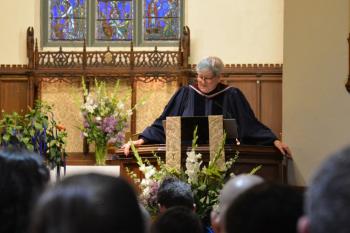 When Susan retired from the congregation in January, 2017—where she had served for twenty-five years—she told a local newspaper, "Probably for the first six months I'll be out on my porch with my cat, reading my Boston Globe and New York Times."  It is the only time I can recall Susan saying something that was at all inaccurate or off-base.  Those of us who know Susan, knew better.    
During our time of transition at Andover Newton we recognized our need for a minister like Susan.  So we invited her to assume a new and additional role as Community Chaplain.  It was one of the wisest things we did in our time of transition.
As Community Chaplain, Susan brought her pastoral skills to bear, ministering both to individuals and the community as a whole.  In this last year, she coordinated our weekly chapel services, creating a sacred space in a new setting and leading worship that nourished us all.
On behalf of the entire Andover Newton community—and particularly those who were on the Hill for this last year—thank you for all you did and for all you are.
by: Martin Copenhaver