Spirit of the Hill Award
Skip to a recording of the 2021 Spirit of the Hill Award presentation…
The Association of Andover Newton Alumni/ae (those former students of both Andover Newton Theological School and Andover Newton Seminary at Yale Divinity School) seeks to recognize a graduate who, through their ministry, evidences the capacity to fulfill the mission of Andover Newton and contributes to fulfilling the purpose of the Alumni/ae Association.
This person will be a graduate of either Andover Newton Theological School or Andover Newton Seminary, a leader, faithful to their call, who demonstrates in ministry one or more of the following:
Devotion to renewing church and society through ecumenical witness and creative expression of the Gospel and commitment to enacting God's ways of justice and love in the world;
The faith and courage provided by liberating visions that compel them toward thoughtful, compassionate, and timely responses to cultural and religious conflict;
The ability to respectfully cross borders within and across religious traditions and to help others do the same, thus serving as repairers of the breach;
Efforts to promote fellowship among ANTS/ANS graduates and commitment to the school's mission through contributions of time and energy to the ANTS/ANS constituency.
The recipient of this award will be selected by the Board of Directors of the Alumni/ae Association. Any member of the Alumni/ae Association or any member of the Andover Newton faculty or staff can nominate graduates for this award.
A certificate of recognition, and a gift appropriate to the recipient, will be presented in conjunction with Fall Convocation each year.
Past Recipients:
Rev. Dr. Diane Kessler
2006 Awardee
Rev. Claude Black
2007 Awardee
Revs. Alan & Sally McCain
2008 Awardee
Ms. Lily Tu
2009 Awardee
Rev. Horace Seldon
2010 Awardee
Rev. F. Sue Fitzgerald
2011 Awardee
Rev. William R. Cunitz
2012 Awardee
Rev. Veronica "Ronny" Lanier
2013 Awardee
Rev. Don Ng
2014 Awardee
Rev. Dr. Davida Foy Crabtree
2015 Awardee

Rev. Jeffrey L. Brown

Rev. Virginia Child

Prof. Mark and Dr. Melissa Heim

Rev. Randy Mayer

Rev. Dr. Thomas F. Freeman

Rev. Liz Aguilar

2016 Awardee

2017 Awardee

2018 Awardees

2019 Awardee

2020 Awardee (posthumous)

2021 Awardee
Spirit of the Hill Awardee Biographies
Rev. Diane Kessler '71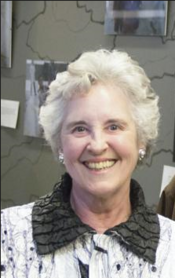 An ordained United Church of Christ minister, Rev. Kessler was for 32 years the Executive of the Massachusetts Council of Churches until her retirement in 2007. She received Andover Newton's Spirit of the Hill Award in 2006, the first year of its awarding. Praised by archbishops and laity alike for her skill and passion in bringing churches together in common witness, Diane exemplifies Andover Newton's ecumenical spirit.
In addition to her MA leadership, she was active as well with the National Council of Churches of Christ in the USA and the World Council of Churches.  She is a recipient of the Avery D. Post Ecumenical Award from the United Church of Christ and the co-author, with Dr. Michael Kinnamon, of Councils of Churches and the Ecumenical Vision (WCC, 2000). In 1998 she was the official recorder of the 8th Assembly of the World Council of Churches and the editor of the assembly report, Together on the Way. In 2001, she received an honorary DD from Episcopal Divinity School.  In her retirement she continues to be active in ecumenical leadership.
Rev. Claude Black '43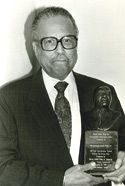 Rev. Black was the Pastor of Mt. Zion First Baptist Church in San Antonio TX from 1949 to 1998.  Over those years he founded several community groups as well as the city's first black credit union and served as chair of the Social Action Committee of the National Baptist Convention and president of the Baptist Minister's Union of San Antonio.
He was known throughout the South for his civil rights activism. Throughout the late 1950's and 1960's, he and State Representative G. J. Sutton and Harry Burns organized and led marches throughout the state. He challenged former Texas Governor Price Daniel, former San Antonio Mayor Walter McAllister and the establishment for their unfair treatment of minorities in the city. He became an associate of such leaders as A. Philip Randolph, Martin Luther King, Thurgood Marshall, Adam Clayton Powell Jr and others. He endured many threats to himself, his family and even his church. A drive-by shooting occurred on his home and his church was burned in 1974 with no suspects ever being charged.
He served four terms on the San Antonio City Council 1973-1978 and became the city's First Black Mayor Pro Tem.
San Antonio has a street, shopping plaza, and community center named in honor of Rev. Claude Black. The city of San Antonio has created the Rev. Claude & ZerNona Black Scholarship Endowment Fund.
Revs. Alan and Sally McCain '68
Alan McCain and Sally Bliss met as students at Andover Newton in 1964 and after graduation went to Tarsus American College in Tarsus, Turkey, as missionaries of the United Church Board for World Ministries. After ten years, they returned to the US and served churches in VT, NH and MN.
In 1988 they returned to Turkey where Mick became the Mission Secretary. Many ecumenical endeavors marked their time there: the Board of the Near East School of Theology, the Middle East Council of Churches, activities involving Eastern, Armenian, and Syrian Orthodox and Roman Catholic clergy and lay persons. They also ran a hospitality facility called "The Upper Room" which attracted many to the shores of the Bosphorus.
After an earthquake in 1999 Mick was named administrative coordinator of the relief effort through T.A.C.T. (Turkish Action of Churches Together). Sally helped women organize a cooperative to decorate colorful scarves trimmed with distinctive edging called "oya." The Turkish Scarf Project provided income for the crafters and education courses. They built a women's center with a library, classroom, kitchen, and playroom.
Mick was coordinator of an ecumenical service of remembrance after the attacks of September 11, 2001. He wrote: "The church was full. For the first time in Istanbul, Christian, Jewish and Muslim clergymen prayed together, took comfort from the holy writings, and gave support to those bereaved…many tongues in that place affirmed the presence of the transcendent God." He retired as Mission Secretary at the end of 2002.
Ms. Lily Tu '49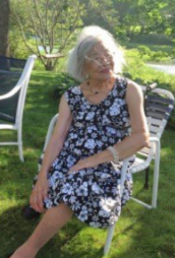 Born of Mary and Thomas Chin in Lewiston, ME, she was the eldest of 8 children. Lily attended Boston University and the Andover Newton Theological School, where she completed her MA in Religious Education in 1949. While there, she sang with the Handel and Haydn Society and Sara Caldwell's Opera Company of Boston. She is well known for her pioneering work in liturgical dance. A prize-winning ballroom dancer, she wrote her master's thesis on liturgical dance and went on to teach young people this artful and graceful way of relating to the church service. She also worked in race relations in a number of contexts, winning recognition for her work with Christians and Jews and with residents of Chinatown. An active member of her community and the West Parish of Barnstable, Lily was honored by the Massachusetts Commission on the Status of Women as an Unsung Heroine in 2006. Her community named her Citizen of the Year in 2007 for "making West Barnstable a better place through her inspiration, dedication and community spirit." In 2009, she was the recipient of Andover Newton's Spirit of the Hill award. She was a lifelong learner and educator.
Rev. Horace Seldon '53
Rev. Horace Seldon founded Community Change, Inc. in 1968 following the assassination of Dr. Martin Luther King, Jr. Horace wanted to provide Boston with an organization that would address issues of institutional racism and its underlying causes and consequences. The mission of Community Change has evolved from its original concept 30 years ago. Today, Community Change also takes on a grassroots organizing and training capacity for local community activists. A man of great influence on generations of clergy and laity alike, Horace Seldon received an honorary degree from Wheelock College in 2001 and the Spirit of the Hill Award in 2010.
Rev. F. Sue Fitzgerald '59
From 1963 until her "retirement" in 2005, Rev. Sue Fitzgerald held pivotal and trailblazing roles as the founder and only Director of the Christian Education Center at Mars Hill College in western NC, as one of the first ordained female Baptist ministers to serve in North Carolina, as Minister of Education and interim pastor at Mars Hill Baptist Church, as a teacher of seminary extension courses which gave both pastors and laypeople throughout the region access to religious education, as the founder of a program for handicapped children and adults in the late 1960s in Madison County, as a mentor and teacher to hundreds of college students, as chaplain for Hospice of Madison County, and as the most recent president and director of Madison County Neighbors in Need. During those years, Fitzgerald has received two honorary doctorates, from Mars Hill College and from Wake Forest University. She has been featured in two books about female Baptist preachers in North Carolina.
For twenty years, Fitzgerald was Director of the Center, which provided leadership and ideas as well as an ever-growing and extensive library of audiovisuals, background reading, study materials and guides covering every imaginable church need, and all free for the asking for pastors and laypeople all over the region that is particularly dotted with small churches in need of assistance. She received the Spirit of the Hill Award in 2011.
Rev. William R. Cunitz '74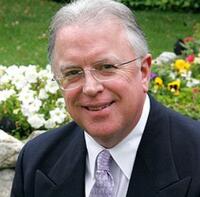 During the 1980s and 1990s, Rev. Cunitz served the administration of Andover Newton Theological School and five presidents as Director of the 1982-85 Capital Campaign, Director of Church and Alumni/ae Relations, Director of Development and Vice President for Institutional Advancement. As a member of the school's adjunct faculty from 1991 to 1998, he taught a course in the administration and theology of stewardship. In 1997, he helped to launch the school's distance education program, and was among the first to teach a course at Andover Newton using the Internet.
Looking specifically at his years on the ANTS leadership team, his nominator said, "His devotion to the School and his sense of integrity carried the day through numerous difficult days in the School's life in those years. Whether a student, an alum, or a faculty or staff member, when you were in Bill's presence, you knew that he cared for you personally. That quality of personal concern has infused his leadership throughout his ministerial career."
Bill served as the President/CEO of Pilgrim Place in Claremont, CA, from 1998 to 2015. An internationally known Continuing Care Retirement Community with a focus on social justice, environmental sustainability and innovative healthcare, Pilgrim Place has more than 360 residents who have served the church and humanitarian non-profit organizations. He recently directed a $26.5 million multi-phase redevelopment of the campus that now features 3 LEED certified buildings, at the time more than any other free-standing retirement community in the United States.
He has also served as a member of numerous professional and community organizations as well as his local church, Claremont United Church of Christ. Bill received the Spirit of the Hill Award in 2012 and was cited for his embodying the excellence in ministry that ANTS strives to inculcate in all its students and graduates.
Rev. Veronica "Ronny" Lanier '70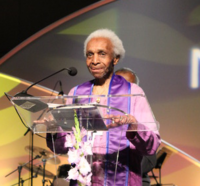 A native of Boston, "Ronny" Lanier was commissioned as a missionary by the American Baptist Home Mission Society in 1957 serving in Denver, Sacramento, and Chicago. She received a master's degree from ANTS and was ordained in 1970 serving the American Baptist Churches of Massachusetts for 25 years overseeing children's curriculum and teacher training. For many years she hosted bus trips to the annual world mission conference in Green Lake, Wisconsin. She was Pastor Emeritus at First Baptist Lynn for 16 years and interim pastor at many other churches. Ronnie has received numerous awards and citations including an honorary doctorate from the American Baptist Seminary of the West in 2012 and the Spirit of the Hill Award in 2013. Ronny died in 2014, surrounded by much love.
Rev. Don Ng '75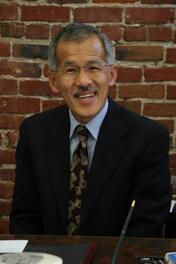 Rev. Don Ng served as President of American Baptist Churches USA (ABCUSA) for the 2014-15 biennium, having previously served as Vice President. Since 1998, Don has served as senior pastor of the historic First Chinese Baptist Church in San Francisco that was started by the American Baptist Home Mission Societies in 1880. The church has three Sunday worship services served by a multiple pastoral staff team ministering to both English-speaking and Cantonese-speaking people in Chinatown as well as in the greater Bay Area. Recently, the church was one of four congregations featured in the Transformed by the Spirit video as remaining effective in ministry and faithful to God's leading by growing through adaptive change.
Don served on the General Board, the Executive Committee of the American Baptist Home Mission Societies. From 1978-1998, Don was on the national staff of American Baptist Educational Ministries in Valley Forge, where he was director of Education for Discipleship, Youth Ministry and represented EM on the General Executive Council. He was also involved in curriculum development, camping and conferencing, Asian Pacific youth ministry and Christian education, and directed a number of the national American Baptist youth gatherings. Additionally, he served as the Chief Affirmative Action officer for ABCUSA.
Rev. Don Ng received the Spirit of the Hill Award in 2014 for his stature in leadership both in the local church and in his denomination.
Rev. Dr. Davida Foy Crabtree '72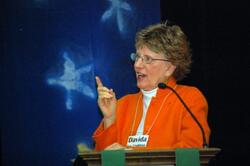 Davida Foy Crabtree served in a wide array of ministries before her retirement. From campus ministry to a community based women's center, from parish ministry to 23 years of Conference Ministry in the United Church of Christ, she has served as pastor, advocate for justice and peace, and ecumenical and denominational leader. She has received numerous awards: The Antoinette Brown Award for outstanding women in ministry, the "Somos Uno" Award from the East LA neighborhood organization, President's Award from the CT Coalition Against Domestic Violence, and another from the CT Coalition Against the Death Penalty.  From 1996 to 2010, she was the Conference Minister of the Connecticut Conference of the UCC and in 2007 was the host for the 50th General Synod of the UCC in Hartford.
During her 11 years as Senior Minister of Colchester (CT) Federated Church, she led the congregation to explore the meaning of their lives as ministers in their workplaces, homes, neighborhoods and community. From that mutual exploration and her D.Min. studies, Alban Institute published her book The Empowering Church (1989).  She considers her 13 years of service as a Trustee of ANTS to be a high point of her volunteer opportunities. Since retirement she has served as Senior Consultant to the Officers of the UCC, as interim and acting Conference Minister in two Conferences, and as interim development officer for ANTS twice.
She received the Spirit of the Hill Award in 2015.
Rev. Jeffrey L. Brown '87
At TED 2015, Rev. Jeffrey Brown's keynote garnered a standing ovation—and has since been viewed over 1 million times. Rev. Brown is currently the president of RECAP, which stands for Rebuilding Every Community Around Peace. He is also a co-founder of the Boston Ten Point Coalition, a faith-based group that was an integral part of the famous "Boston Miracle," during which the city experienced a 79% decline in violent crime among youth from 1990 to 1999. The efforts spawned countless urban collaborative efforts in subsequent years.
Rev. Brown consults municipalities and police departments (and policing initiatives) nationwide on issues around youth violence and community mobilization. He helps rebuild trust between neighborhoods and police departments. He has worked with the US State Department on Countering Violent Extremism (CVE) initiatives and has also worked with the World Bank, IMF and IFC in senior leadership development as part of the Society for Organizational Learning North America.
Rev. Jeffrey Brown received the Spirit of the Hill Award in 2016 and serves as a member of the Board of Trustees of ANTS.
Rev. Dr. Virginia Child '80, '86
Rev. Dr. Virginia Child's leadership on the Alumni/ae Association Board was transformational during her tenure as chair. Both on the Board and in her ministry, Rev. Dr. Child is a steadfast ambassador for Andover Newton. When the school began it's move to New Haven, CT, she knew that the need for significant change was a long time in coming, not an impulsive move. She was able to help other alums to understand the difference between the School's mission and the School's physical campus, having worked for many years with churches in transition. With a keen eye to group dynamics, and a wicked sense of humor, she is at hear heart a pastor who has reached out with warmth and genuine affection to concerned alums and weary deans with equal sincerity.
Rev. Dr. Child has worked with churches in conflict and she espouses a gospel message of peace and good will. She approaches this important work with confidence, utilizing tools she collected when a student at Andover Newton Theolgical School. Equipped with these tools, she rebuilds communities with faith, hope, and joy.
Virginia received the Spirit of the Hill Award in Ocotber, 2017, during Andover Newton's first Alumni/ae Convocation at Yale Divinity School.
Mark '72 and Melissa (honorary alum) Heim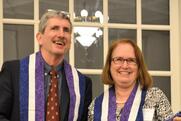 Prof. Mark and Dr. Melissa Heim have long been fixtures around Andover Newton. Mark is a 1976 graduate of Andover Newton's MDiv program and a 1978 graduate of Andover Newton's joint PhD program with Boston College. Melissa, who is recognized throughout the extended Andover Newton community, was made an "honorary alumna of Andover Newton" by the Alumni/ae Association Board.
Mark has made abroad and decisive impact on theological studies, both by his teaching in the classroom and by his long list of publications. 
When Andover Newton landed in New Haven, Mark and Melissa were integral to the creation of community. In the early days of Andover Newton's Emmaus Gathering, which now has over a hundred guests regularly, Melissa made soup in crock pots, arranged tables, and created the welcoming atmosphere for what would become Andover Newton Seminary's signature social program. Mark and Melissa regularly open their home to students, faculty, and staff for meetings, social gatherings, and holiday parties.
They live out the Gospel message that compels us to acts of generosity and hospitality with humility and compassion. It would be difficult to imagine Andover Newton's success in the early years of our New Haven program if Mark and Melissa had not been present. The Heims were awarded the Spirit of the Hill during the 2018 Alumni/ae Convocation.
Randy Mayer '94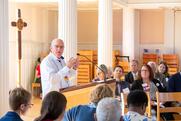 Randy Mayer graduated from Andover Newton Theological School in 1994.
Deeply influenced by his time studying and living in Latin America, Randy Mayer and his family moved to the Borderlands 21 years ago so he could serve as Senior Minister of a UCC church just 35 miles from the US/Mexico border.  Randy and his congregation have helped develop many of the humanitarian groups that give food, water, and medical care to migrants in the desert – for no one should be dying in our deserts. Randy has also guided his congregation in creating a foodbank, as well as the Javarita Coffeehouse - a progressive theological lecture series, and Common Ground on the Border – a three-day cultural event using arts to foster conversation around struggles of immigration and border life.  Randy received his Doctorate in Ministry from Pittsburgh Theological Seminary in 2012.
Randy was awarded the Spirit of the Hill in 2019 when he was Andover Newton Seminary's convocation speaker.
Thomas F. Freeman '42
This year we are proud to bestow this award on Rev. Dr. Thomas F. Freeman, who graduated in 1942 with a bachelors of divinity. Sadly, Rev. Dr. Freeman passed away earlier this year, just shy of his 101st birthday. When Thomas Freeman entered Andover Newton in 1939, Andover and Newton had only begun to share a campus and mission. Although "Andover Newton Theological School" did not exist as a merged entity until two decades after he graduated, Freeman's life and ministry were an exemplar of unity and the power of partnership.
During all three years of his studies at Andover Newton, Freeman received the Chip Scholarship in recognition of the "Highest Academic Honors" in his class. Though Freeman studied theology and ministry while a student at Andover Newton, his preaching started long before he arrived on campus, having offered his first sermon at the age of nine. 
A half-century after his graduation, Freeman returned to the school – by then the Reverend Doctor Thomas Freeman – and preached a sermon titled "The Black Church: God's Gift to Us" in 1992 during Black History Month.
In the years leading up to that service in February of 1992, and in the years since, Rev. Dr. Freeman became an internationally recognized pastor, professor, public speaker, author, and debate coach. His students have included Rev. Dr. Martin Luther King, Jr. and U.S. Representative Barbara Jordan of Texas. When Denzel Washington was getting ready to direct "The Great Debaters" – a movie that would go on to be nominated for a Golden Globe for Best Motion Picture in 2007 – he asked Freeman to coach the cast on debate method and oratory.
For this, and so much more, we are proud to announce Rev. Dr. Thomas Freeman as the recipient of this years, Spirit of the Hill Award. In lieu of a gift, Andover Newton has created a scholarship in Rev. Dr. Freeman's name.
Learn more about the scholarship by visiting our Giving page
. Additionaly, watch a video of Rev. Dr. Freeman's daughter, Dr. Carlotta Freeman, receiving the award on his behalf. This video also includes a word from Board Chair Linda Campanella, who explains why the board decided to create a scholarship and matching fund challenge, as well as a powerful testimony from 2nd year MDiv student, Jyrekis Collins, about the transformational nature of scholarships.