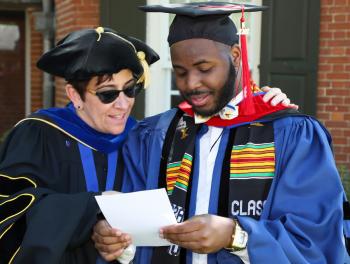 Join the trustees, faculty, staff, students, and soon-to-be graduates for Andover Newton Seminary's first commencement ceremony in New Haven. During this celebration, we will award the very first Andover Newton Seminary Diploma to a graduating student who has fulfilled all of the criteria outlined in the educational program that rolled out this past September. As Sarah Drummond writes: "Only 213 years after Yale President Timothy Dwight preached at our first Convocation. A blink of an eye in God's sense of time."
Andover Newton Semianry's Commencement will take place at 9:00 am on Saturday, May 18, in Marquand Chapel. The pickup choir - to which all are invited to participate - will gather and rehearse at 8:20 am in Marquand Chapel.
Livestream Information
If you are unable to attend commencement in person, then you can watch the event in real time online. On the day of the event, view it on the
YDS Livestream Channel
.