The Upper Zoom: Worship and Bible Study Guide for Week 2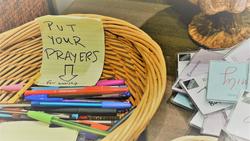 Current students, faculty, and staff are participating in a five-week, synchronous, socially-distanced Bible study and worship series called The Upper Zoom ©2020. Each week we will post the worship outline and Bible study that the Andover Newton Seminary community participated in the *previous* week. This way, our extended Andover Newton family, partner churches, and friends can lead their own weekly socially-distanced service.
The Upper Zoom (©2020): Week 2
Order of Worship by Sarah B. Drummond 
Set the table: choose an activity for quiet centering, such as playing a song or lighting a candle.  
Checking in: Group members share how they're doing, around 2 minutes each.
Prayer: Group leaders will have received prayer requests in an email by 5 p.m. Thursday. Also, the group leader might decide to write down prayers based on check-ins. Hold space for silence (3 minutes, give or take) after intercessory prayers. End with the Lord's Prayer.
Ritual observance: Primal scream. When both afraid and frustrated, screaming helps. Take a pillow and scream into it as loudly as you can, at least three times.
Blessing: Either the group leader can read, or can share the screen so all might recite, the traditional Emmaus (Pauline) blessing:
And now may the peace of God that passes all understanding keep your hearts and your minds in the knowledge and the love of God, and of God's son Jesus Christ. And may the blessing of God almighty, who created you, redeemed you, and will forever sustain you, be with you now and remain with you all forever. 
Passing the peace: Say goodbye with a word of peace, until next time.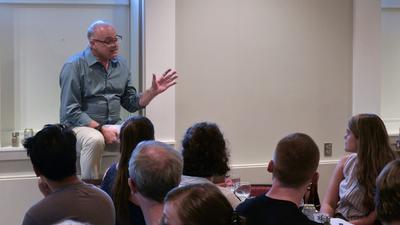 "And a Time to Refrain from Embracing" - 
Bible Studies for a Time and Season
"Its Alright. Don't Be Afraid!"
Matthew 14:22-27 (J. B. Phillips New Testament)
22Directly after this Jesus insisted on his disciples' getting aboard their boat 
and going on ahead to the other side, 
while he himself sent the crowds home. 
23And when he had sent them away 
he went up the hill-side quite alone, to pray. 
When it grew late he was there by himself 
24while the boat was by now a long way from the shore at the mercy of the waves, 
for the wind was dead against them. 
25In the small hours Jesus went out to them, 
walking on the water of the lake. 
26When the disciples caught sight of him walking on the water they were terrified. 
"It's a ghost!" they said, 
and screamed with fear. 
27But at once Jesus spoke to them. 
"It's all right! It's I myself, don't be afraid!"
*******
Prompts and Questions:
Note the emphasis on Jesus' self-isolation. 
What are the benefits of periodic withdrawal from crowds?
Note the motif of fear. 
My friend Steve visited his parents outside London just before the travel ban went into place. His parents told him that this season reminded them of wartime England: there were shortages, family members were cut off from each other, deaths were inevitable, and no one knew when it would end. 
During the bombing of England's major cities in 1940-41, a commentator wryly remarked—after observing a man knock down an elderly woman as they ran into the subway tunnels for shelter—that contrary to 1 John 4:17 ("Perfect love casts out fear"), there were times when perfect fear casts out love.
How do we win the spiritual struggle against fatigue, against fear, against panic, against losing our humanity in desperate circumstances?