Andover Newton Fellows
Andover Newton Seminary Fellows are a diverse group of practicing ministers who serve in a variety of settings.  What they have in common is excellence in ministry, a passion for their work, and a willingness to share what they have learned with the students of Andover Newton.
Andover Newton Fellows participate regularly in the life of Andover Newton, providing a diverse range of role models, and potential mentors for our students. 
Andover Newton has long been distinguished as a school that creatively combines academic rigor with reflective practice.  The Fellows are each engaged in ministry characterized by both faithfulness and fruitfulness.  Interacting with such exceptional ministerial leaders on an ongoing basis complements and enhances the education our students receive in the classroom and elsewhere.
Introducing the Senior Fellows
The Reverend Dr. George W. Scott
Academy Chaplain and Counselor, Psycho-Social/Support and Wellness Department, Punahou School (Honolulu, Hawaii)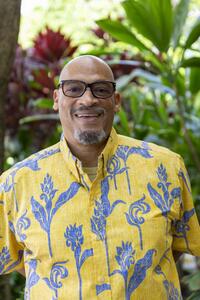 Born and raised in Detroit, Michigan, the Rev. Dr. George Scott attended Michigan State University, where he majored in Labor and Industrial Relations. He also holds a master's degree in Business Management from Central Michigan University. In 1989, he moved to Hawaii to participate in a yearlong residency in Clinical Pastoral Education with Pacific Health Ministries.  He continued his ministerial calling, graduating from the Chicago Theological Seminary in 1996 from the Master of Divinity program. He was ordained as a United Church of Christ minister in 1997 at Central Union Church, United Church of Christ. In 2013, Rev. Scott received a Doctorate in Counseling and Pastoral Care from the San Francisco Theological Seminary with a focus in separation, loss, and grief.
Rev. Scott is currently an Academy Chaplain and Counselor in the Psycho-Social/Support and Wellness Department of Punahou School in Honolulu, Hawaii. Rev. Scott serves the aged community in the Hawaii community as an Associate Chaplain with the Arcadia Family of Companies – Retirement Residences. Most recently Rev. Scott was a guest lecturer at Andover Newton at Yale Divinity School in the inaugural Preparation for Clinical Pastoral Education course.
Rev. Scott has been involved with youth, young adults and family related ministries through his work as Associate Minister at Central United Church of Christ, Honolulu, The Hawaii Conference of The United Church of Christ, and as Varsity Football Coach at Punahou School.
Rev. Scott resides in Hawaii with his wife, Bridget, they have four grown children.
The Reverend Jocelyn B. Gardner Spencer
Senior Minister, United Church on the Green (UCC) (New Haven, CT)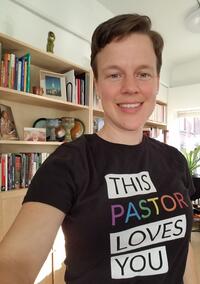 Rev. Joycelyn Gardner Spencer serves as Senior Minister of United Church on the Green (UCC) in New Haven. She is a spirited preacher and worship leader, a skilled listener and counselor, and a committed advocate for justice and equity, particularly along lines of race, gender, and sexual orientation. She came to New Haven after six years as Pastor of First Congregational Church of Woodstock, CT, where she was the first woman to hold that position. She served previously in the Pastoral Residency Program at Wellesley (MA) Village Church. She holds a B.A. in Human Ecology and Environmental Studies from Williams College and an M.Div. from Harvard Divinity School, and is pursuing a Certificate in Executive Leadership at Princeton Theological Seminary.
Gardner Spencer is active in the life of the wider church. She is a trained racial justice facilitator and has led workshops in local churches, at regional workshops, and for denominational staff. She serves as President of the Board of Directors of the Southern New England Conference of the UCC, where she is a leader in bringing together the historic Connecticut, Massachusetts, and Rhode Island Conferences to create a unified, innovative, mission-driven denominational body. She is active in local interfaith collaboration and has previously served on the National Planning Team of the UCC 2030 Clergy Network. She and her spouse, who is a math professor, are parents to a curious preschooler who loves books, dinosaurs, vehicles, and vegetables, and asks fabulous theological questions at bedtime.