History
A small group of faculty members broke away from Harvard amidst a theological dispute to form Andover Theological Seminary in 1807. Its primary purpose was to educate Congregational ministers. At its founding, it was the first graduate school of any kind in North America. It served as the model for postgraduate theological education for generations.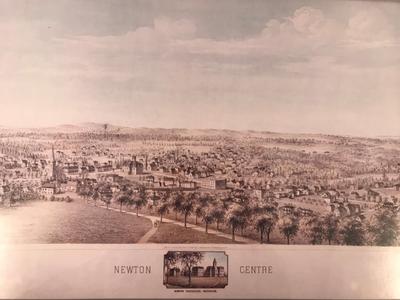 In 1825, First Baptist Church in Boston founded the Newton Theological Institution in Newton, MA to educate clergy in what is now known as the American Baptist Churches (USA). After a brief attempt at reconnection with Harvard, Andover took up residence in Newton, and the two schools gradually blended their programs. In 1965, they were merged to form Andover Newton Theological School.
Amidst a quickly changing church and culture, and seeking a sustainable institutional model, Andover Newton formally affiliated with Yale Divinity School in 2017 and now operates as a partner on the YDS quad in New Haven, Connecticut. Andover, Newton, and Yale are all schools that developed their graduate theological educational program in the wake of New England's Second Great Awakening. All three have a centuries-long commitment to educating ministers at the intersection of faith and reason.
Throughout its remarkable history, Andover Newton developed new models for ministry and has trained some of the nation's most innovative and influential leaders, with particular contributions in the area of global missions. 
In the 20th Century, Andover Newton was a pioneer and recognized leader in both field education and Clinical Pastoral Education. The school made important contributions in the areas of Latino/a theological studies, as well as Black Church Studies. Andover Newton was the first American Baptist seminary to adopt a welcoming and affirming stance toward LGBTQ individuals, including affirmation of their callings to ministry.
In the early 21st Century, Andover Newton carried out groundbreaking work in interfaith engagement. In its Yale context, Andover Newton has created an innovative curriculum that tailors a flexible MDiv curriculum for a person seeking education for faith community leadership. It is the first seminary within a university's divinity school to require students cross-register at the university's business school to learn about entrepreneurship and nonprofit management.  
Throughout the long history of Andover Newton—now known as Andover Newton Seminary at Yale Divinity School—central ongoing commitments remain: to the church, to the training of learned clergy, and to rigorous academics coupled with reflective practice. From the beginning, up until the present moment and beyond, Andover Newton holds to those commitments through a radical openness to what God is doing now and a spirit of innovation.