Dr. Karen Leslie Hernandez (MATR '07)
Proud 2007 Andover Newton Theological School Graduate, Dr. Karen Leslie Hernandez's Ministry is One of Inclusivity, Interfaith Peacebuilding, Healing, and Theological Coexistence.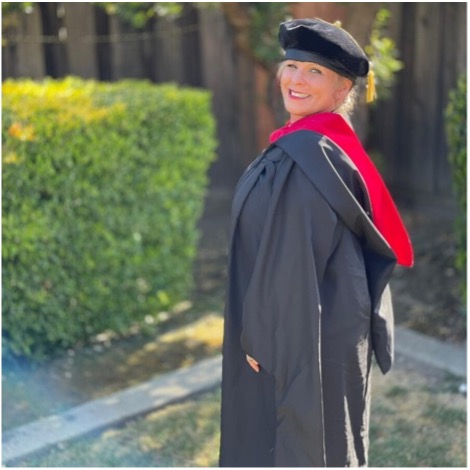 As a young child, Karen often felt a keen sense of God's presence.
She recalls sitting in her room reading a big picture Bible one day and suddenly, the distinct smell of purple roses permeated the room. Since then, whenever she smells a purple rose, she says to herself, "I think this is what God smells like."
The beauty of this sensory experience was marked, also, by fear. Raised Catholic, she remembers feeling fear of hell, fear of missing church, and fear that someday, due to the confusion of an early calling, that she had to become a nun. God felt scary and distant, but Karen couldn't get away from the intrigue; the earliest whispers of her calling. When Karen was in third grade, one of her Catechism teachers gave her a small, laminated card that said, "God loves you." This revelation was surprising. Karen was raised in a very violent, abusive and neglectful home, as well as in a very homogenous, white community as a Mexican American girl. The gift of this card from her teacher, an African American nun, was very profound. The concept of a loving God grew and flowered as she began to address her relationship with the Divine and with herself, and to heal from her childhood trauma. Karen's spirituality began to grow.
Karen's calling only grew stronger. Years later, as an adult and a mom, she remembers thinking that a call from God was a call to pastoral ministry. Uninterested, she ignored the feelings toward a call. "And, as you know," Karen laughs, "You can't ignore it. Finally, I went to my pastor, and she said, 'Just accept the calling. It doesn't mean you have to be a pastor. Just see what happens.'" And so, I did. Mind you, this was a huge decision. I was a high school drop out that had years of education ahead of me.
Karen began her long road of education, receiving her Associate of Science Degree from Middlesex Community College in Bedford, Massachusetts in 2001, and in the fall of 2002, she began studies at Wellesley College in Peace and Justice Studies. She dove into Islamic studies, seeing divinity school as a natural path for her future. At Wellesley, she wrote her thesis on Al Qaeda and the use of religion for political gain. In her senior year at Wellesley, Karen felt pulled to continue her education and applied to several divinity schools.
Is God Keeping You Up At Night?
Karen recalls this phrase on a small postcard that her pastor received in the mail from Andover Newton Theological School. Intrigued, Karen attended Andover Newton's "Ministry Days" to check out the school as a prospective student. In the fall of 2005, she began her studies at Andover Newton in the Master of Theological Research program. During her time at Andover Newton, Karen worked on a thesis entitled "Christians and Muslims: Their Tumultuous Historical Relations, Their Theological Differences, and Their Inherent Beliefs - What Does This Mean for Our Future?" She was also awarded a grant to travel to India. She remembers these opportunities as formative building blocks. "Andover Newton really shaped my work as a grounded Christian Theologian, my work as a peacebuilder, and my work in interfaith understanding, and gave me these phenomenal opportunities that I otherwise wouldn't have had. It was such a beautiful, holy space. I also attended classes at Harvard Divinity and Boston College through the Boston Theological Institute, which informed my theological framework and formation in exceptional ways."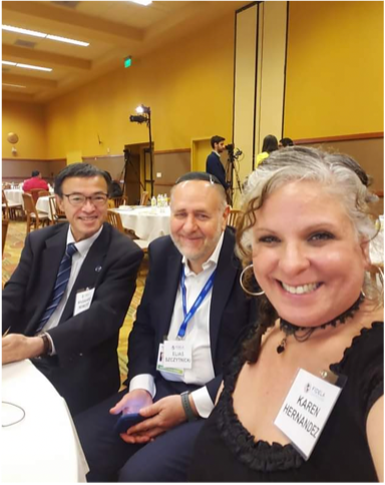 In her final year at Andover Newton, Karen experienced a metamorphosis in understanding. "I realized how beautiful, and how skewed, so many religious traditions are, including my own tradition, Christianity," she says, "and this really grounded my desire to learn more about other faith traditions." She sites two profound experiences in this personal metamorphosis. Both experiences occurred in Varanasi, India: The first was witnessing Muslim children learning at a Christian school without being forced to read the Bible. The second found her meeting and talking with young Muslim men who were addressing terrorism within their own tradition at the Wahhabi Madrasa, Jamiah Salafia. Karen was the first Western woman allowed into Jamiah Salafia to learn and ask questions, and this opened the door for other women to learn from the students of Jamiah Salafia.
Karen went on to further study at Boston University School of Theology, where she received her Master of Sacred Theology in Philosophy, Theology, and Ethics with a concentration in Religion and Conflict Transformation ('12). During this time, she went back to India to learn from women in the slums in Mumbai, where she worked with the Centre for the Study of Society and Secularism with the now deceased Muslim Scholar, Dr. Ali Ashgar Engineer.
Four years later, Karen attended Claremont School of Theology, where she earned her Doctor of Ministry in Spiritual Renewal, Contemplative Practice and Strategic Leadership ('21). While at Claremont, Karen created a restorative justice component to interfaith peacebuilding for the United Religions Initiative. This thesis came with a toolkit component that Karen developed for interfaith understanding across multi-religious experiences. cultures and contexts.
Karen marks many important moments on her journey that have shaped her work and who she is today. Many of these occurred between and during her studies, including:
-       Sitting and learning from and with religious leaders from all over the world (Sikh, Jain, Baha'I, Zoroastrian, Muslim, Jewish, Druids, Atheist, Humanist, Pagan, Buddhist, Hindu, Bedouin, Indigenous activists, and Native Americans)
-       Studying with Prof. Elie Wiesel for three semesters throughout her educational career
-       Several weeks in the West Bank / Israel with Christian Peacemaker Teams
-       Time conversing with a Branch Davidian member on the compound in Waco, Texas, '11
-       Volunteering at the Federal Correctional Institute Dublin, tutoring women getting their GED's
-       Working at St. Anthony's in the Tenderloin, in San Francisco
-       Working at Habitat for Humanity East Bay Silicon Valley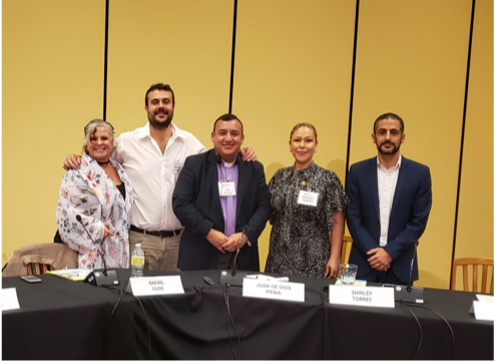 All of these experiences have shaped Karen's ministry, and she lives out the reality that ministry can be many things, not just pastoral ministry. Karen considers herself a pluralistic Christian, a theologian, a peacebuilder, and when time allots, a writer. "I feel it's so arrogant of us to think that whatever tradition we stand in, is the only tradition that will lead to wherever we believe is heaven, or enlightenment, or paradise. We are all on this path of life. What faith we stand in has very little to do with choice – we are mostly born into our faith and many times, never question it. The idea that God or the Divine is revealed in the culture to which we are born (John Hicks) is very real to me." Karen finds immense beauty in all religious traditions and believes that it is important for us to be able to step outside our own spiritual and theological limitations and recognize the holiness and sacredness of all traditions and of all humans. "If God didn't want us to be different," Karen notes, "then we would all be the same. And how boring would that be?" As a bridgebuilder, Karen notes that the most important part of her work is human-to-human connection.
"Being in a room full of people who are completely different from me is the most amazing thing I can do for myself," she says. "Appreciating the beauty of difference, appreciating humans and their goodness, their humanity, and their beliefs - that, for me, is the most important aspect of connecting with others on that very human level."
Grounded in years of practical and educational experience, Karen is putting her expertise to work at the top interfaith peacebuilding organization in the world, Religions for Peace International, where she currently serves as Programme Officer of Partnerships and Interreligious Education. In this position, Karen often finds herself recalling things she learned at Andover Newton. She recalls with fondness a beautiful vision of sitting on the Hill with a book, on the ANTS Quad, on a beautiful autumn day. Those who attended Andover Newton during those golden years know exactly what she is referring to. The magic in the air, the mutuality of conversations occurring all around, the family, and the understanding of the importance of the education that Andover Newton offered and still offers, has not been lost on Karen. She is forever grateful for Andover Newton and for the theological formation and growth she was offered. That education has made her the grounded and thoughtful Public Theologian and Interfaith Peacebuilder she is today.
Karen has a word of hope for anyone desiring to further peace, justice and understanding in their own lives and in the world. "Until we stop harming and hurting each other in our homes and we heal ourselves, we cannot stop harm, heal our communities, heal our cities, or change the world. I understand this on a very fundamental level. I don't think I chose this life. This life chose me. The conflict and terrifying violence I experienced as a child, and the lifelong trauma healing I have had to do, has led me here, to this place, right now. Violence and harm in the home is connected to the violence and harm on the other side of the world. We are all interconnected. Peace starts at home."
Along with her theological and peacebuilding work, Karen is also a Certified Domestic Violence Advocate and Mandated Reporter. She currently lives in California where she loves to hike, kayak, practice yoga, and spend time with her daughter, Katy.