Early Semester Blessing by S. Mark Heim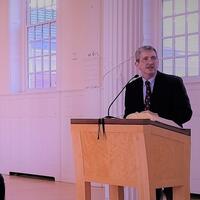 Though many events and classes had returned to in-person gathering in the fall of 2021, masks and social distancing were still required. Like other communities, this impacted Andover Newton's programming in a variety of ways. One change to Andover Newton's weekly Emmaus Gathering was that the community could no longer participate in shared Communion. In place of Communion, faculty and staff offered special blessings at the end of each Emmaus service. 
The following "crayon" blessing was offered by Prof. S. Mark Heim at the opening of the semester. As students entered the chapel, they found crayons waiting for them on each chair. Mark offered the following blessing at the end of the service…
Holy One: Bless us your school children for another week.
 Grant that we may play well together; 
             That no one eats the crayons,
       that we may be sure none are left out when we pick sides on our playgrounds; 
                                                                                     and that no one goes home hurt.
Thank you that we take no votes here on who is "most likely to succeed." 
               All of us are too aware that to be at the head of Christ's class is a very dangerous place.
                 All of us are terrified by what it might take to be chosen "most faithful."
 We do not really want to excel at what you are asking of us. 
             And yet we do want to learn…..to be your friends 
                                    and to be what we do not yet believe or know that we can be. 
We want to belong to your school of grace. 
So teach us the lessons we need, whatever we study.
      Help us with the basics:
                To look both ways and then, always , to look up,
                                                         before crossing the intersections in our lives;
                          To hold hands on all our field trips in the world, 
                                                                 To talk to strangers,
                                                                                   To hang out with the wrong crowd. 
When we remember to bring our lunch,
                             Help us remember those who have none.
When we bemoan our homework,
        Remind us of those who have no home….and would love to have work.
When we begin to measure our class standing, 
                                   Remind us what matters to you. 
We know our loved ones—parents, spouses, friends and children— sent us here, or let us come,
Trusting that we will be kept clean, and warm, and safe, and made smarter. 
But you have designs to make us wise,
                                                      You have hopes to make us faithful,
                                                                          You have power to make us new.
Let it be so.
For the sake of the world you love so much.
                              In Christ's name, in the Spirit's power, in the Mystery's wonder.  Amen