The Rev. Jude Sutharshan Mehendren (MATR '16)
The following interview was conducted by 1st year YDS MDiv / ANS Diploma student Oliver Mesmer as part of the "Andover NewDeal" project in January 2021.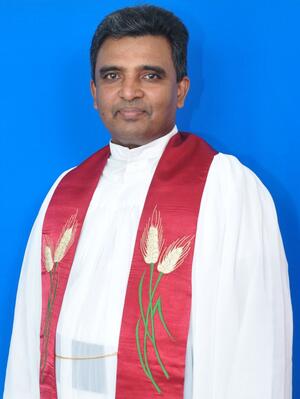 The Rev. Jude 

Sutharshan Mehendren (MATR '16) 

is a pastor in a Sri Lankan congregational denomination called the American Ceylon Mission that ministers within the Tamil community of the country. He grew up and worked in Sri Lanka during a time when there was an armed struggle between Tamil militias and the Sri Lankan state. Much of his work has been focused on human rights and theology of liberation. Jude came to Andover Newton and graduated in 2016 with a MA in Theological Research. His studies focused on conflict transformation and reconciliation from the perspective of the Tamil minority within Sri Lanka. Upon his return to Sri Lanka, he became the leader of Christian Theological Seminary, which trains pastors within his denomination. As of February 2020, he took a leave from the seminary to return to his roots and take a position as the pastor of a small congregation.
During Alumni/ae Convocation in 2018, Rev. Jude travelled to the US to sign an agreement with then Pres. Martin Copenhaver. This agreement outlined the donation of all books in Andover Newton's digital library collections to Christian Theological Seminary in Sri Lanka. Read more about this historic moment on our news page.
What was your experience like at Andover Newton?
I came to Andover Newton in the fall of 2014, and I graduated in 2016. My focus was on human rights, which eventually evolved into the study of conflict transformation and reconciliation. When I was doing my MA in theological research at Andover Newton, I got a call from my church here in Sri Lanka saying, "When you come back, will you take on the responsibility of the seminary to rebuild it?" I said, "Yes." This was early in my second year, so I started a course on academic administration with Sarah Drummond. I was asking how to use theological education as a tool for reconciliation. That was really interesting to me.
While I was there, I also worked in the Franklin Trask Library. It gave me good experience in library management. I started to implement that in our seminary. In Sri Lanka, we had kept all the books in sacks, ready to move them anywhere if a problem came along! We were under a twenty-six-year long war with continuous displacement. We lost all the documents and Bible translations in our mother tongue and all the materials and books to prove our Christian heritage in our locality here. But when I came to Andover Newton, I found the Tamil Christian heritage – the Tamil Bible translation. That was the translation from my own place! The Jaffna translation. In the 1930s and 1940s, the first printing machine was brought by these American missionaries to Jaffna, and they started publishing these things. Miss Diane at the Andover Newton library showed me twenty-two pieces of the Tamil Bible printed in my hometown in the 1930s. Here in my hometown, there aren't in any archives, so I got goosebumps when I saw that! I tried to digitize these books, but I couldn't find a donor. Eventually, I need to digitize the Tamil Bible of the Jaffna translation because it's not available anywhere!
Did you have any particular professors that you connected with especially?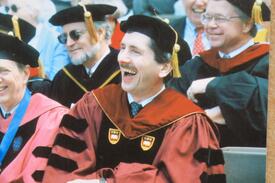 Professor Mark Heim was my advisor at Andover Newton. He didn't force his own ideas on me. It was totally a new model of education to me! In Sri Lanka, we have a saying: "The teacher takes the peel off of the banana and feeds the banana to the student." It's a totally different model. When I had meetings with my advisor, Mark Heim, I was upset. "Why is he not teaching anything to me?" But he wanted to hear from me, and he suggested books and meetings with people and different courses in the greater Boston area. He didn't say "Okay, think this way or think that way." I struggled a lot. I couldn't formulate any ideas by myself. It took time to understand. "Oh, this is the way they teach." They encourage us to search, seek, struggle to resonate, and find learning by ourselves. It was a difficult task for me – a person who is trained in a different way here where people direct students in everything. 
As a theology student, I really enjoyed Dr. Mark Heim's teachings. One is his in-depth knowledge in theology and the history of the development of systematic theology and theological thinking. He won't look at his notes. He will teach from his memory for up to one and a half hours! If you ask any question, then he will answer very clearly. He has a very clear theological understanding, and from that, he definitely explained a lot to his students.
The second thing that I learned from him is the interdisciplinary studies of theology and science, or theology and brain studies. I am not interested very much in this modern science and theology. My focus is more concerned with political liberation and social liberation. That kind of stuff. However, I wanted to see these theological adventures of Mark Heim in these different disciplines. I think the last convocation Mark Heim offered a presentation on pandemic and theology. I participated over Zoom and I listened to him. He is a very, very adventurous, and different thinker – connecting theology to so many different lines of studies.
That helped me to believe theology. Before I came to Andover Newton, I thought: "Theology is just kind of philosophy. It won't help for anything. It is just a thing for discussions. It won't help people to come out from political oppression." That is because I never studied theology in connection with diverse contexts properly. But after coming to Andover Newton, I would say that I started to believe in theology. Theological movement can become a powerful force in the liberation of people, especially liberating the colonized minds, world views, and fears in order to truly believe that liberation is possible. And how can we use these religious resources towards liberation? That kind of thinking came into my mind. I think it's a total worldview change in me. I should say that Andover Newton played a vital role here. Andover Newton put me on a solid foundation in every aspect.
Since Andover Newton, what has it been like rebuilding the seminary?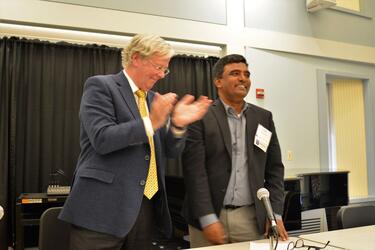 Being a principal here is not just being a principal with a particular duty list. You must become a janitor. You must become the gate keeper. You must become everything. I was a single person in charge of that seminary beginning in 2016. I got help from another clergyman who finished his studies in the US and came back in the middle of 2018, but for almost two years I managed alone. From then I had help, but at the same time, I had to face physical problems because of too much responsibility. My passion was to bring theological education to all the people. The seminary was giving theological education only to the future pastors, but I expanded that to the lay people, church people, and other professionals. Then they could come and start theological education, as well. We could offer degrees for them and others. 
But actually… it is very sad… In my preparation in the US, I focused only on this development of this seminary. I was thinking of developing a CPE training program here because there are lots of post-war trauma issues. At the same time, we wanted to start a peace center from our perspective (i.e., how we look at peace in Sri Lanka). We can enable our people as well as international visitors so they can learn. I developed all these things, and – especially before the pandemic – we thought we can move to hybrid courses and teach half directly and half online as a community. 
But you see it's too much for one person. That expansion became a burden on me, and I became ill. I realized, "I am burning out with a lot of work." I had to focus on my health, so from February of 2020, I got a leave from the seminary. Then I stood down and I took responsibility of a small parish with forty families. So mostly I blocked myself off from seminary functions. 
How has Covid-19 affected your community?
Since we are a small island, we didn't get much Coronavirus. However, the first wave which started in March 2020 didn't affect us as much as it affected the European countries or the North American countries. It was just one thousand people affected by Covid and most of them asymptomatic. We had just eleven persons who died in the first wave up to September. But in September, suddenly we had a second wave of COVID-19 spread throughout our region, and now it has gone up to fifty thousand Covid-positive patients. The death toll has gone up to two hundred right now. Still, it is not very dangerous yet. The people of the government think it is manageable, so they are opening everything. Theaters and the railway and bus system – they are all open. The government has informed the public health sector not to stop any usual functions of the people. We have to follow public health advisories.  One is wearing masks all the time and then hand-washing and keeping social distance.  And if you are going to have a church service or any social gatherings, you have to register the people who come in.
Jude Sutharshan remains an active presence in his denomination and maintains a positive vision for the future. Although he is taking a step back from active seminary management now, he retains his educational passions for the inclusion of lay-people, the establishment of peace and reconciliation education, and the development of CPE as a method of healing the traumas of war. Thank you, Jude, for sharing with us!