The Birmingham Drummond Scholarship Campaign
In honor of the schools' first woman leader in its 215-year history, Andover Newton Seminary at Yale Divinity School has created an endowed scholarship to fund tuition for Andover Newton students at YDS who identify as women and who are called to serve faith communities. The scholarship is named for Sarah Birmingham Drummond, Founding Dean of Andover Newton, ordained minister in the United Church of Christ, and educator in and writer on ministerial leadership.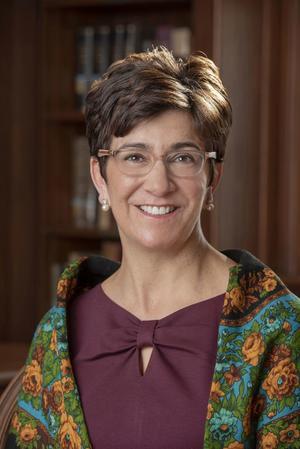 The initial announcement about this scholarship added Andover Newton Seminary's voice to Yale University's celebration of two anniversaries: the 50th anniversary of coeducation in Yale College and the 150th anniversary of women students at the university. A number of events in 2019 and 2020 showcased the depth of women's contributions to the world, celebrated women at the university, and inspired thoughtful conversation about the future of women at Yale and in larger society.
Drummond began her service to Andover Newton in 2005, teaching courses on ministry and directing Andover Newton's historic field education program. She was elected dean in 2011, and was one of the five members of the Andover Newton faculty participating in the 2016-17 "visiting year" that preceded affiliation. She subsequently led the process of developing an innovative diploma program and building a new expression of Andover Newton as an embedded seminary at YDS. She is Andover Newton Seminary's founding dean and the first woman to lead Andover Newton in its 215-year history.
A graduate of Yale College, where she was a Deacon in Battell Chapel, served on the Yale President's Council Committee on Religion (2003-2004), and now serves as a Fellow in Saybrook College, Drummond earned her Master of Divinity at Harvard Divinity School and served Harvard as both assistant dean of freshmen and chaplain for religious education at Memorial Church in Harvard Yard. She then was called as executive director and campus minister for University Christian Ministries at the University of Wisconsin–Milwaukee, where she also later earned her Ph.D. in urban education.
Giving
A contribution can be made to these funds by…
Mail a check made out to "Andover Newton Seminary" to 409 Prospect St., New Haven, CT 06511. Be sure to write "Birmingham Drummond Scholarship" in the notation on the check.
Go online by clicking here.
Don't see an option that works for you? Call or email Ned Allyn Parker with questions (
ned.parker@yale.edu
; 203-464-2287).
The Impact of Endowing Scholarships…
"My first year as a student in Yale College was the 20th year of women at Yale. The women I came to know at Yale are bedrock to my sense of hope for the women of today and tomorrow, and yet I don't think I could have predicted 30 years ago that so many obstacles would still exist for women seeking to enter leadership. Some of those obstacles are invisible, and some are obvious. We want to widen the path for future ministerial leaders who identify as women. Providing support to these candidates will both encourage women to seek a Master of Divinity and ultimately engender more female role models for all future women religious leaders." Sarah B. Drummond