The Davida Foy Crabtree Scholarship Campaign
The Rev. Dr. Davida Foy Crabtree was not aware that her mother had created a scholarship in her honor until her mother's death. "If my mother had had any idea a woman could be ordained, she would have 
gone to seminary herself. She was always working to build up the church,
and to improve public education and her community," Crabtree said.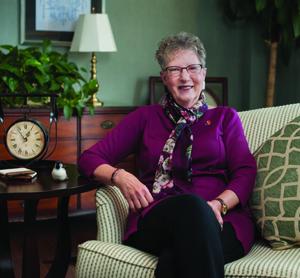 Though Davida's mother designated the testamentary gift with a 
preference for women studying to be UCC ministers, Davida, Andover 
Newton Seminary (ANS), and Yale Divinity School (YDS) encourage donors 
to give to endowment supporting all women in ministry. As Crabtree 
said, "I welcome women from all kinds of backgrounds and interests into 
ministry because that is what strengthens the church. Anything we 
can do to release women's talent to focus on ministry, instead of having 
to repay debt, will benefit the wider church."
United Church of Christ (UCC) minister Rev. Dr. Davida Foy 
Crabtree has provided extraordinary service to the UCC 
and ANS. Most recently, she was Interim Vice President for 
Advancement at Andover Newton Theological School. 
Prior positions include serving as Interim and Acting 
Conference Minister in Florida and Missouri Mid-South 
Conferences, and as Conference Minister for Connecticut 
and Southern California. She also served as Senior 
Consultant to the Collegium of Officers of the UCC and 
as a local church pastor in Connecticut.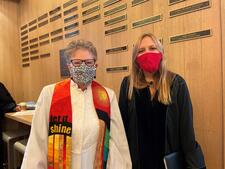 The one honored by the scholarship meets the 2021 scholarship recipient! In this image, the Rev. Dr. Davida Foy Crabtree meets the 2021 DFC Scholar Julia Center (2nd year YDS MDiv and AND Diploma student). A wonderful and meaningful encounter…
Giving
A contribution can be made to these funds by…
Mail a check made out to "Andover Newton Seminary" to 409 Prospect St., New Haven, CT 06511. Be sure to write "Davida Foy Crabtree Scholarship" in the notation on the check.
Go to the Giving page, enter the amount you would like to give and click on "Andover Newton Seminary." 
Don't see an option that works for you? Call or email Ned Allyn Parker with questions (
ned.parker@yale.edu
; 203-464-2287).
The Impact of Endowing Scholarships…