The Thomas F. Freeman Scholarship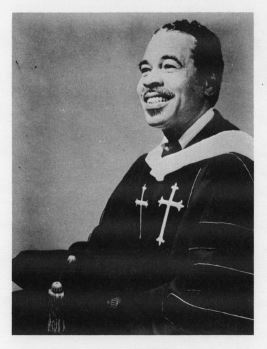 Thomas Franklin Freeman graduated from Andover Newton in 1942. Freeman earned the Chip Scholarship – the award given for the highest academic honors – all three years of his studies. In fact, Freeman received either an A or an A+ in every class he took at Andover Newton except one. His lowest grade was a B+ in Public Speaking and Christian Preaching. Years later, a student of Freeman's explained that Freeman loved to tell the story of the seminary professor who gave him the lowest grade he received in graduate school.
"Why did he give you a B+?" his students asked. 
"Because he thought my mustache was distracting!" Freeman answered with a wry smile and a twinkle in his eye. Even more surprising than the grade was the class that he earned it in. Freeman would go on to become one of the world's top coaches in public speaking and forensics, the art of competitive debate.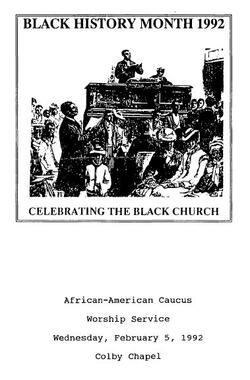 As difficult as it is to imagine what it was like to be an African-American student at Andover Newton in such a small minority, and amidst such obstacles and stacked odds, Freeman went to his grave considering Andover Newton to be among the formative communities of his life and ministry. In 1992 – a half century after his graduation from Andover Newton – Rev. Dr. Thomas Franklin Freeman returned to the school to preach in Colby Chapel during Black History Month. The title of his sermon was "The Black Church: God's Gift to Us." 
Rev. Dr. Freeman died on Saturday, June 6, 2020 - just weeks before his 101st birthday. During his illustrious career, he served as a pastor, a professor, a coach, a husband, and a father. At Texas Southern University, the historically Black college where Freeman taught and coached for more than six decades, he was honored as Founding Dean of his discipline and had an honors school named after him. 
Because of Freeman's achievements, his love for Andover Newton, and his lifelong commitment to educating and empowering young Black women and men, the Andover Newton Seminary Board of Trustees has designated funds to create an endowed scholarship in Freeman's name. The trustees and staff of Andover Newton have made it a goal of raising at least $250,000, at which point the scholarship can be awarded annually with a preference for a student experiencing a call to leadership in historically Black congregations.
Rev. Dr. Freeman left a legacy to be sure. He taught a young Martin Luther King, Jr. at Morehouse College and soon-to-be state representative Barbara Jordan at Texas Southern University. He was hand-picked by award-winning film star Denzel Washington to coach the actors in "The Great Debaters" – a film nominated for best picture at the Golden Globes. For Dr. Freeman, education was ministry and ministry was education. The two were inextricably linked, and he dazzled in the pulpit and at the podium.
Andover Newton, along with Yale Divinity School and Berkeley Divinity School, has made scholarships a top priority for fundraising. We want students to enter ministry unencumbered by graduate school debt and to be able to make their career decisions based on sacred call.
Andover Newton Seminary invites our individual and community partners to join us in addressing this priority, recognizing the impact it will make on clergy and the congregations in which they serve. Seminary debt is a crisis we must overcome, and we can only do it with our faithful companions who have journeyed with us through so much.
This is a critical moment where pandemic, anti-black racism, and financial distress have collided to form a perfect storm. The world is suffering and we will need compassionate clergy to step into the fray and heal the rifts made visible during this tempest. Who better to lead in the days that will follow than a graduate of Andover Newton Seminary at Yale Divinity School? We need your help to make it happen. We need your help to make it possible. 
We need your help to provide healers to a broken world.
The Impact of Gifts on Tuition
Thanks to donor generosity and great progress toward fundraising goals, students will pay and borrow less than they did five years ago. Over that time, tuition has risen only eight percent, while the standard scholarship package has gone up by 33 percent. As a result, the annual cost of attending YDS is now $2,580 less than it was for the 2013-14 academic year.
Scholarships at Andover Newton Seminary
As a partner on the Yale Divinity School Quadrangle, Andover Newton follows the same fundraising policies as Yale Divinity School and Berkeley Divinity School. Scholarships are designated in the following ways:
We celebrate and give thanks to all of the donors that have helped this scholarship reach $250,000! Thank you! 
If we are able to double the current endowed fund (raising an additional $250,000), then it will cover full tuition for an Andover Newton student every year!

Spirit of the Hill Award 
Watch a video of Rev. Dr. Freeman's daughter, Dr. Carlotta Freeman, receiving the award on his behalf. This video also includes a word from Board Chair Linda Campanella, who explains why the board decided to create a scholarship and matching fund challenge, as well as a powerful testimony from 2nd year MDiv student, Jyrekis Collins, about the transformational nature of scholarships.